Gaming

(10)
You might have heard that this year's version of the Electronic Entertainment Expo, better known as E3, was canceled due to the COVID-19 pandemic. And that's no surprise given that...
Kelly
in
Gaming
01 June 2020
When we were younger all we wanted to do was make our own Super Mario game. We'd take graph paper, look at level maps in Nintendo Power, and try to design our own Super Mario Broth...
Den
in
Gaming
29 May 2020
When you are a competitive gamer, choosing the perfect gaming laptop is the most crucial step to a winning career. The latest gaming laptops these days have upgraded their overall...
Den
in
Gaming
25 May 2020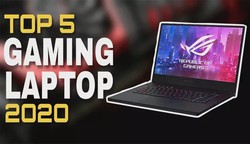 You're digging through some old moving boxes you never unpacked, and you discover your old console with a bunch of retro games.  You dust it off, and after managing to hook it up t...
Alex
in
Gaming
20 May 2020
How well does VR perform on different laptops, and what do you need to get set up? I've got the VIVE Cosmos Elite from HTC and we'll go through what's needed to play VR on a lapt...
JT
in
Gaming
16 May 2020
There's a new console war brewing, again, but it's going to be quite different from the ones we've seen in the past. The Xbox Series X and PlayStation 5 will be going head-to-head...
Alex
in
Gaming
26 April 2020
Typically, when we get excited about improvements to gaming performance, it's because of some new piece of hardware like a high refresh rate monitor or a graphics card that's beefi...
Den
in
Gaming
26 April 2020
The RTX Real-time Ray Tracing Beta for Minecraft Bedrock is finally here and it looks absolutely amazing.  I'm going to tell you guys all about it. But first, there's some really c...
Den
in
Gaming
23 April 2020
Valve has published the first release of a new branch of Proton 5.0, which is based on the experience of the Wine project and aims to provide Linux gaming applications created for...
Alex
in
Gaming
08 February 2020
Okay, you don't need to be a hacker to use Linux. In fact, all you really need is a spare flash drive, live USB software like Rufus or balenaEtcher, and a little bit of patience....
Alex
in
Gaming
10 September 2019