Shopify and WooCommerce both are the giant and most popular eCommerce platforms; where WooCommerce is known to be one the most popular among eCommerce platforms, and Shopify has been powering more tha...
02 March ·
0
· 7
·
Chirag panchal
What is Web Scraping? Web scraping is used for extracting essential data from a website. You can extract data in several applications. Mainly web scrapping is used for gathering valuable data. R...
28 February ·
0
· 14
·
Chirag panchal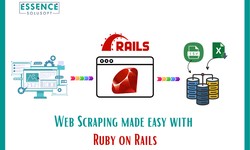 Creating an API with Ruby on Rails is simple and quick. The nature of Ruby allows it to use external services easily, which is why it is a great idea to develop an API using Ruby on Rails....
22 February ·
0
· 70
·
Chirag panchal