Colin Morgan 71-75, Shelton Street, Covent Garden, London, WC2H 9JQ, UNITED KINGDOM
Colin is a writer who has written blogs about Finance, Blockchain, Crypto, and technology. He is a prepared digital marketer with over 5 years of marketing experience and has led the way in digital marketing Strategies with many organizations and high-quality brands to generate more revenue through web-based promotional systems and implementation has been compiled.
In cryptocurrency mining, miners need to use computers to solve an incredibly complex puzzle. The person that solves the puzzle first is awarded cryptocurrency. The most powerful c...
Colin Morgan
20 September 2022 ·
0
· 10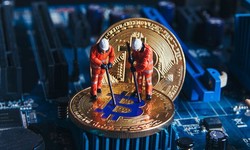 If you're into video games, you know how hard it can be to find like-minded gamers. Luckily, the Reddit community has a subreddit specifically devoted to gamers where you can meet...
Colin Morgan
19 September 2022 ·
0
· 5