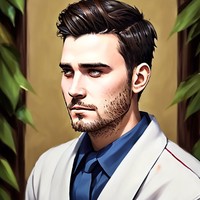 In the fast-paced world of work, chaos can often rear its head, making it seem like a daunting challenge to rein in. To start off, it's crucial to pinpoint what's within your control. Frequently, we e...
2 weeks ago ·
0
· 444
·
Jeremy Dale
In the dynamic and swiftly evolving tech landscape, the surge of mobile applications offering an extensive array of services has garnered significant attention. These versatile apps, often dubbed as s...
07 August ·
0
· 498
·
Jeremy Dale
The future always comes imperceptibly. First theory turns into reality and then gradually becomes an ordinary thing. This has been the case with all technologies without exception. Neural networks wil...
27 March ·
2
· 2.1K
·
Jeremy Dale
Wherever you look, everyone is now talking about ChatGPT. This neural network has caught everybody's attention. And everybody has their own reasons for it. Some use it for work, some out of curiosity,...
09 March ·
1
· 914
·
Jeremy Dale
Artificial intelligence answers all the questions from subscribers  The rapid evolution of artificial intelligence is of interest to both IT developers and common users, but also scientists as well....
22 February ·
3
· 1.1K · 1
·
Jeremy Dale
Even the most famous products are able to surprise: you use them for years only to find certain functionality that you had no idea existed. It is not as relevant if the feature is not of much use; how...
27 January ·
1
· 1.5K
·
Jeremy Dale
The year of 2022 was quite profound for developers of Gem4me. In summary, the core notion you should know, in case you are weary of reading the article in full, is that Gem4me is now more than just a...
21 December 2022 ·
2
· 1.8K
·
Jeremy Dale
Development of the Gem4me ecosystem initiated with the messenger: the first version was released on Google Play store in 2016. The MarketSpace commercial platform was introduced to the ecosystem in 20...
08 November 2022 ·
1
· 1.3K
·
Jeremy Dale