Simulanis is a multi-award winning XR technology company dedicated to delivering excellence in creating some of the most engaging, interactive and immersive AR-VR applications. We started back in November 2013, and have been pioneering the application of AR-VR-MR / XR technologies for industrial training across manufacturing-based sectors such as pharmaceutical, FMCG, automotive, engineering, automation, oil and gas, paints, power, energy, and chemicals to name a few. Since inception, we have worked
Show All

with more than 100 companies, a list that covers some of the most esteemed and admired clients who are predominant market leaders across the aforementioned industries.
From paintings to social media posts and advanced digital advertising mythology, the advertising space has expanded a lot more than ever before. The days of only using traditional...
Simulanis Solutions Pvt. Ltd
1 week ago ·
4
· 60 · 1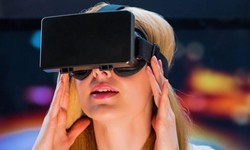 It has been extensively explored and examined how to increase information retention rates in the educational sector. With new technological advancements come new opportunities to a...
Simulanis Solutions Pvt. Ltd
11 January ·
0
· 13