ASUS are introducing a powerful 13" gaming laptop during CES 2021, the ROG Flow X13, and despite being on the smaller side, this gaming laptop packs up to an 8 core Zen 3 Ryzen 9 5000 HS processor and Nvidia GTX 1650 graphics.
This is the first AMD based gaming laptop I've ever seen at this smaller size, but ASUS have taken things to the next level by offering an external graphics solution with up to RTX 3080 for even more power.
External graphics, or an eGPU setup typically works with Thunderbolt. As that's not present here, ASUS have instead created their own custom port for direct PCIe 3.0 x8 connectivity with their new ROG XG Mobile eGPU.
Not only is direct PCIe connection faster than Thunderbolt, 8 lanes gives us more bandwidth too, which is one of the key restrictions of an eGPU setup.
63Gbps of this is dedicated just for the GPU, which is about 58% more bandwidth than Thunderbolt 4.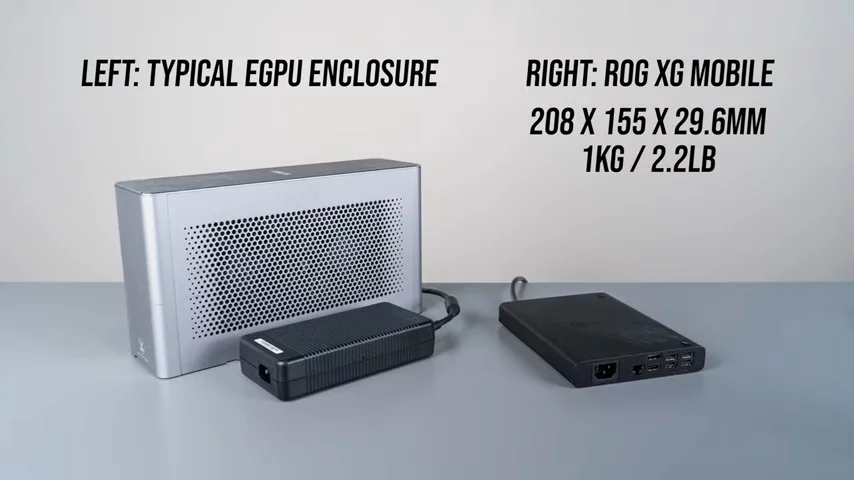 The XG Mobile is basically an eGPU dock, but it's still significantly smaller when compared to your typical eGPU enclosure, making it far more portable, and ASUS are saying it's around 6% the size of a typical eGPU enclosure while still offering Nvidia's latest RTX 3000 series graphics, right up to RTX 3080.
Despite the smaller size, the XG mobile has an integrated 280 watt power supply too, so you don't need to carry an additional power brick. This means that your eGPU brick is powered by one cable, and then this can fully power the laptop too.
The cable between the XG mobile and Flow X13 laptop is 41 cm, so shorter than the 70 cm Thunderbolt cable that came with my eGPU enclosure. The XG Mobile also offers plenty of connectivity, it's basically a complete docking solution, with gigabit ethernet port, DisplayPort 1.4, HDMI 2.0a, 4 USB 3.2 Gen1 Type-A ports and an SD card slot.
The XG Mobile is cooled with a vapor chamber cooler, so it will be interesting to test how hot it gets owing to the smaller enclosed form factor.
I'm not currently sure what power limits they will run the GPUs at. ASUS have advised that it's not possible to upgrade the eGPU yourself, apart from replacing the whole unit. This is an advantage with a more traditional eGPU enclosure, but those do also come at the cost of being larger and taking up more space, they're far less portable and that's the tradeoff.
If we look inside, we can see that the motherboard with GPU die also houses all the external I/O ports, so yeah you can't exactly just stick in your own GPU. With the eGPU connected to the laptop and in use, the GTX 1650 graphics in the laptop aren't needed, so the power limit of the processor can actually raise up in this scenario for more performance.
Speaking of that processor, ASUS are now able to use liquid metal with AMD. Last generation this was only available with Intel laptops, as AMD chips just have different conductive components around the sides of the chip, but this problem has now been solved.
The GTX 1650 graphics also uses dynamic boost, so depending on the workload the GPU can potentially boost 5 watts higher for more performance.
ASUS have said that is their goal to offer the custom PCIe port and the XG Mobile with future gaming laptops, but so far the Flow X13 is the only laptop offering this port, baby steps I guess.
Back to the laptop itself, it's also a 2-in-1, so you can fold the screen back 360 degrees and use it in tablet or tent mode.
It's got a 13.4" glass touchscreen with 16:10 aspect ratio versions of 1080p and 4K resolutions, so some extra vertical space compared to traditional 16:9 panels. Both have adaptive sync and I look forward to testing the screen response time, hopefully it's better than what we got in the ASUS Zephyrus G14 last year.
For the rest of the specs it's available with either 8gb or 16gb of LPDDR4X memory in dual channel.
Based on these images of the motherboard provided by ASUS, the memory appears to be soldered, which makes sense as this is typically the case with smaller laptops this size.
While we're looking inside, here's a look at the cooling solution that's used.
Unlike the larger Zephyrus G14 laptop, the Flow X13 does have a 720p camera.
ASUS have placed the Flow X13 side by side with the G14 to give you an idea of the size differences,
and we can see the difference in thickness with this side shot too,
which also shows the XG Mobile PCIe port on the back left hand side. It's also got a USB 3.2 Gen2 Type-C port hidden within the custom port that you can use separately for charging, followed by HDMI 2.0b and 3.5mm audio combo jack on this left side.
The right has the power button which doubles as a fingerprint scanner, USB 3.2 Gen2 Type-A port, second USB 3.2 Gen2 Type-C port, and air exhaust vent which wasn't present on the left.
The laptop can be charged with USB Type-C with a smaller 100 watt brick, and this is enough to fully max out both the CPU and GPU together. It's also got a 62Wh battery which ASUS say can last for 10 hours in video playback.
There aren't a huge number of ports available as it's a smaller 13" laptop, but again you've got the XG mobile which acts as a dock, offering more connectivity should you need it. The keyboard has curved keycaps with 1.7mm of key travel, n-key roll over, and white backlighting.
ASUS said there's going to be a limited supernova edition, which uses AMD's top end binned processors exclusively. I don't have the exact processor specifics as I'm making this video prior to AMD's Ryzen 5000 launch event. Unfortunately I don't have pricing and availability information during this initial announcement. Regardless of what you may think of an eGPU setup, which is traditionally more niche and costs more money, I think it's still pretty cool to see ASUS innovating here.
Before this I've only really seen Alienware do the direct PCIe connection thing with their graphics amplifier, which is much larger, granted it's not possible to change the GPU with the XG Mobile, the trade off is a much greater level of portability. For the first time, making an eGPU something you could actually travel with. I don't think that's really been an option before, so it's cool to see something new like this. ASUS have plenty of other interesting changes in their gaming laptop lineup which I'll cover in other reviews.