BULGOGI (KOREAN BBQ BEEF) 2023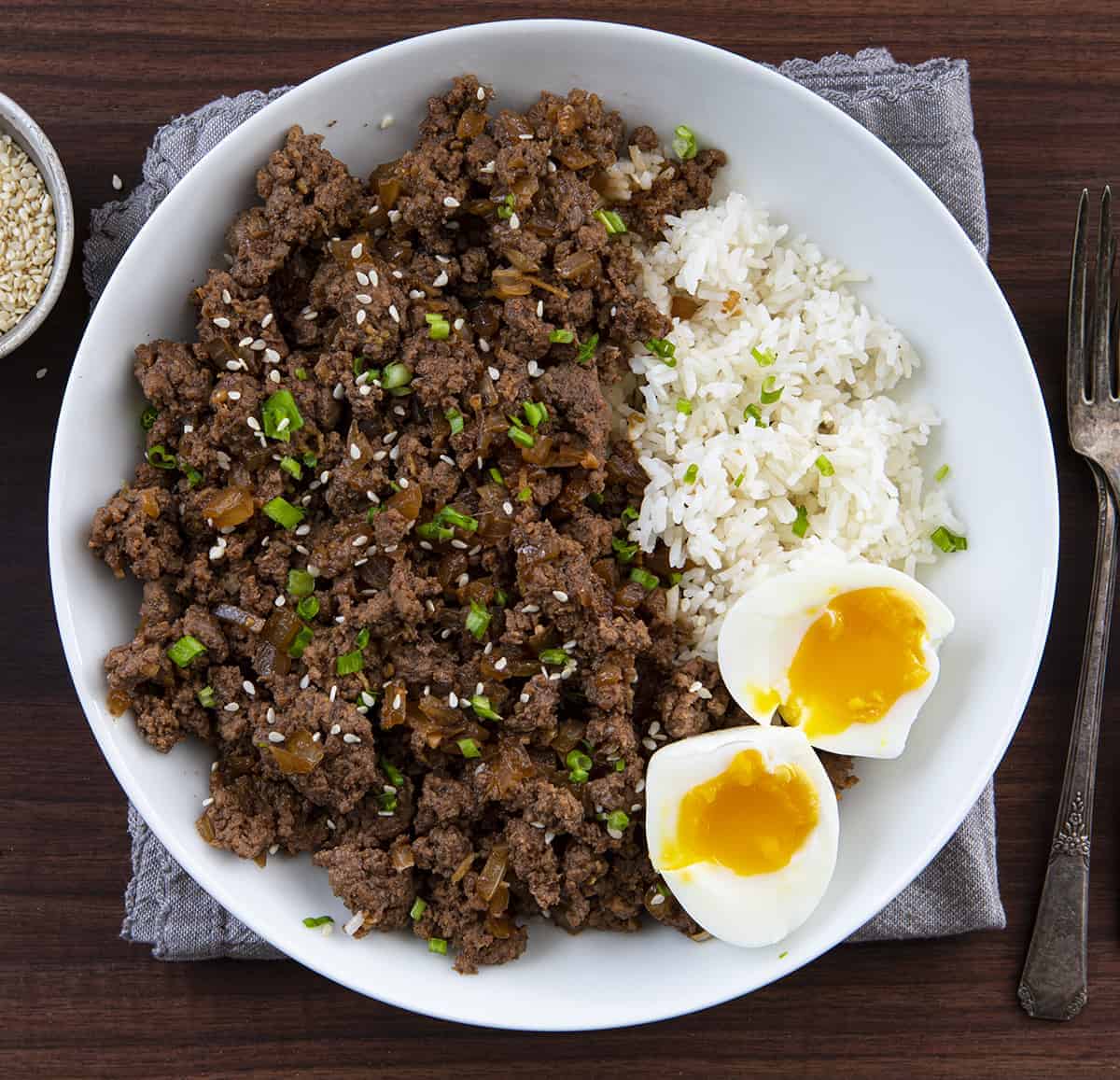 Your comprehensive guide to making the most delicious bulgogi (Korean BBQ beef) at home! With this, you can make mildly sweet, savory, smoky, juicy and tender delicious bulgogi. Are you excited?
WHAT IS BULGOGI
Literally speaking, bulgogi (불고기) means "fire meat". It is often made with tender parts of beef, pork or chicken. However, in general terms, unless specified, bulgogi is made with beef.
WHAT CUT OF BEEF DO I USE
As I briefly mentioned above, the tender parts of beef are ideal to use in bulgogi. And commonly used ones are top sirloin and beef tenderloin.
During my research though, I discovered that different countries have different naming conventions for these cuts, which made me rather confused!
Anyway, I love making my bulgogi with scotch fillet (known as rib eye in the US). It is a tad more expensive than other popular steak cuts, but not as expensive as eye fillet (known as beef tenderloin in the US).
Scotch fillet / rib eye is known to have more flavor and juicy texture than other steak cuts. It also has a good amount of marbling, so cooking it over a grill or pan frying is quite suitable for this cut.

HOW TO CUT BULGOGI BEEF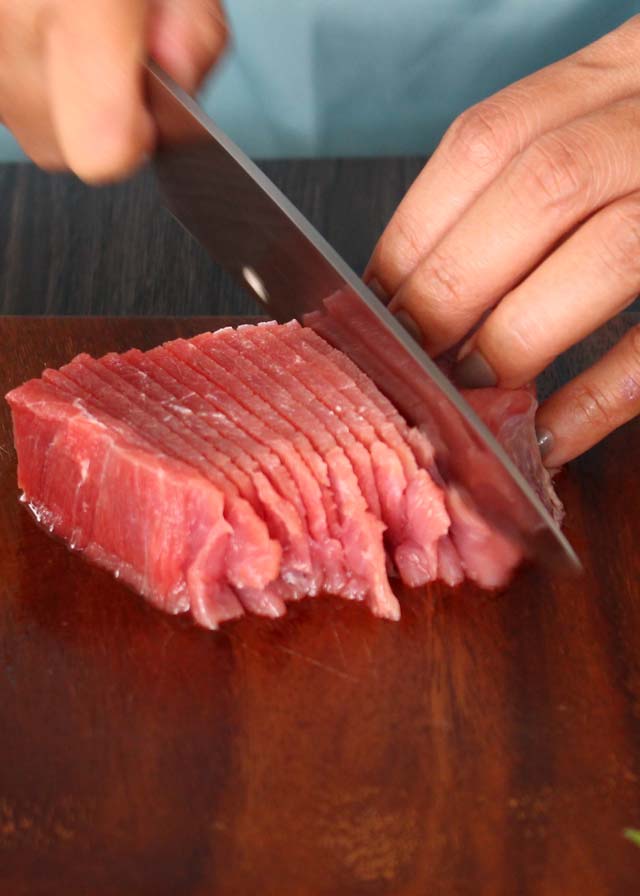 Until recently, I've been exclusively using pre-cut bulgogi from a Korean grocer. Yes, you can buy this meat that's already sliced from a Korean grocer / Korean butcher. Just watch out for the label "bulgogi meat" in the fridge / freezer section.
But I just became so unhappy with the degrading quality of meat I've been getting from my local Korean grocer. The meat wasn't fresh and it had too much gristle, so it was rather unpleasant to eat.
So I decided to cut the meat myself with my choice of meat (scotch fillet / rib eye fillet as I mentioned above) and this is what I do with it. (Tip – It's worth sharpening your knife before you start this process!)
1. Take the meat out from the packaging. Wrap each fillet individually with cling wrap. Place the wrapped meat on to a metal baking tray.
2. Put the tray into the freezer and let the meat partially freeze for about 2 to 2.5 hours. (The time can vary depending on your freezer setting, the thickness and size of the meat). The meat is ready if your knife goes through smoothly and you're not having difficulties in thinly slicing it. If you do, you should put the meat back into the freezer and freeze it a bit longer.
3. Remove the meat from the freezer and remove the cling wrap. Slice the meat thinly across the grain. Ideal thickness is 2mm to 3mm (1/8 inch). Now the meat is ready to be marinated with bulgogi sauce!

WHAT'S IN BULGOGI SAUCE

In my mind, bulgogi sauce is the whole reason why this dish is so addictively delicious.
It has a blend of soy sauce, brown sugar, asian pear (or red apple), garlic, ginger, ground black pepper and sesame oil. This gives a slightly salty, mildly sweet and nutty savory flavor.
TENDERIZING BEEF

As you can read from above, I use pear or apple in my bulgogi sauce. I use them as a meat tenderizer but also as a sweetness enhancer.
While the most commonly used fruit in bulgogi marinating process is Korean pear / Asian pear / Nashi pear, it is not an easy fruit to get to if you don't live in Korea. So I often use red apple varieties (e.g. pink lady, red delicious, royal gala, fuji etc.) combined with pureed onion and it has been working really well for me.
Some Koreans also use kiwi or pineapple but you will have to make sure you don't overuse these as these are stronger tenderizing agents than pear.
If you marinate the meat for too long with these, the colour and the texture of the meat can change substantially in an undesirable way. (I'm speaking from my own experience here!)
COOKING
GRILLING vs. PAN FRYING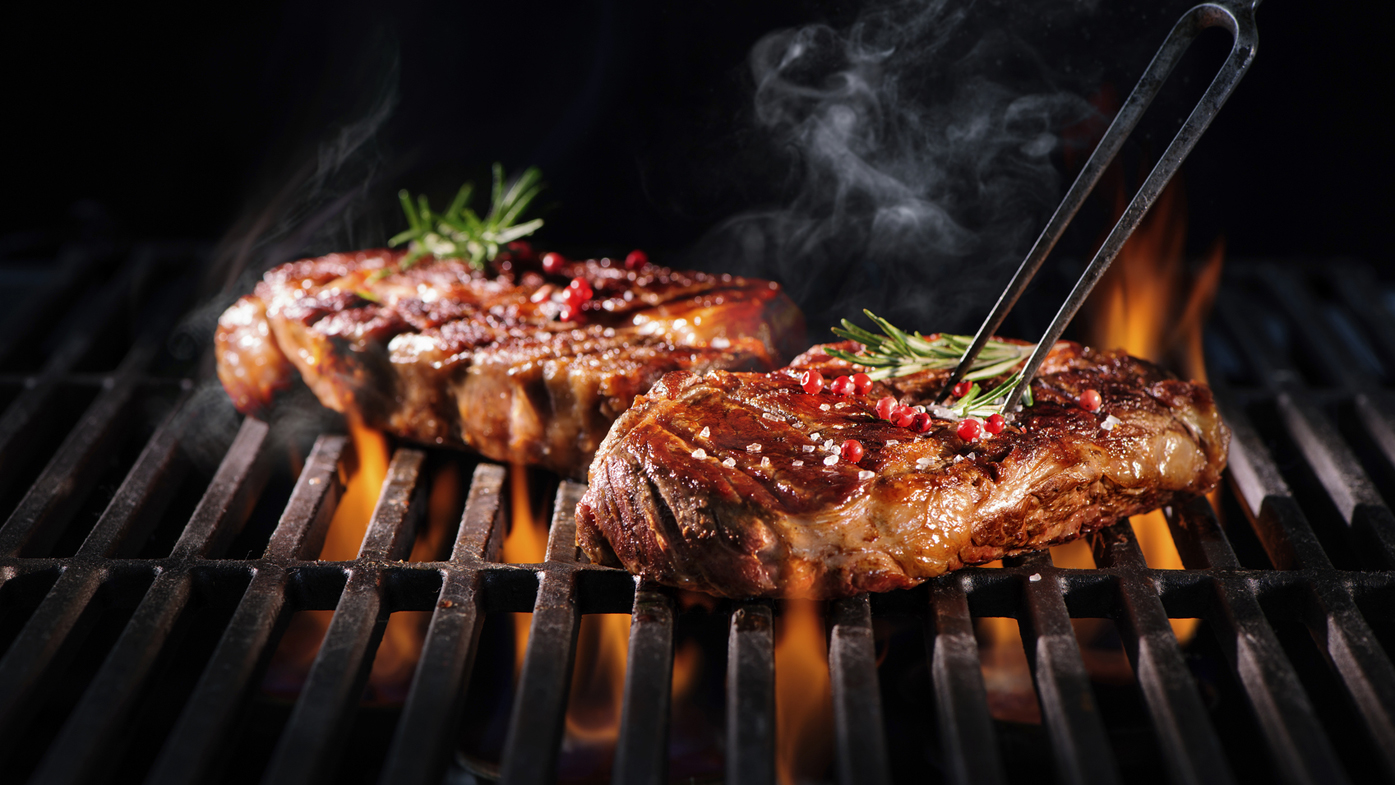 Bulgogi can be cooked with vegetables over a stove (in a pan / skillet) or it can be cooked on a bbq grill without any vegetables. As you can imagine, they will give slightly different flavors.
Pan fried bulgogi (with vegetables) will naturally release some juice, which you can use to mix with a bowl of steamed rice. Many people love this idea! This method is also great if you're making bulgogi as a meal prep.
On the other hand, char-grilled bulgogi (on a bbq) won't build any juice as it will drip into the grill plate, but the extra flavor of slightly burnt charcoal, juice and the fat gives an irresistibly pleasant Korean bbq experience!
ADDING SMOKY FLAVOR (WHILE PAN FRYING)
Can you believe that you can add smoky flavor to your bulgogi even when you cook bulgogi in a pan? I won't hold you long.
The secret is cooking in a well seasoned cast iron skillet and cooking in a small batch of meat without over crowding the pan.
Because, when you over crowd the pan / skillet with the meat and/or vegetables, too much juice gets released from them. And the smoky effect gets diminished.
But you can stop that happening by cooking bulgogi in a smaller batch. Cooking without any vegetables will also help that too.
Also, another secret is, heating up the skillet high before you add the meat, so that as soon as the meat touches the pan, it starts sizzling, searing and caramelizing. This additional flavor really does make the bulgogi even more tasty!
Ingredients

4 Servings
¼
pear, grated
1
garlic clove, grated
2
tablespoons soy sauce
1
tablespoon gochugaru (coarse Korean hot pepper flakes), or 1 teaspoon crushed red pepper flakes (optional)
1
tablespoon grated peeled ginger
1
tablespoon light brown sugar
1
tablespoon toasted sesame oil
1
pound boneless pork loin, trimmed hanger steak, boneless short rib, or skinless, boneless chicken breasts or thighs
2
tablespoons vegetable oil, divided
Kosher salt
Sliced scallions (for serving)

Preparation
Step 1
Combine pear, garlic, soy sauce, gochugaru (if using), ginger, sugar, and sesame oil in a large resealable plastic bag or medium bowl. Using a sharp knife, slice meat into very thin strips. Add to marinade, seal bag, and squish everything around until the meat is coated. Let sit at room temperature 30 minutes, or chill up to 8 hours.
Step 2
Heat 1 Tbsp. vegetable oil in a large skillet over medium-high until oil is shimmering. Remove half of meat from marinade, letting excess drip back into bag; season lightly with salt and cook in a single layer without moving until lightly browned, about 1 minute. Toss meat and continue to cook, tossing occasionally, until cooked through and crisp at edges, about 3 minutes. Transfer to a plate. Repeat with remaining 1 Tbsp. vegetable oil, remaining meat, and more salt.
Step 3
Serve topped with scallions.
Nutrition Per Serving
Calories (kcal) 310 Fat (g) 20 Saturated Fat (g) 6 Cholesterol (mg) 75 Carbohydrates (g) 5 Dietary Fiber (g) 1 Total Sugars (g) 3 Protein (g) 28 Sodium (mg) 560

korean drink
korean food list
korean cuisine
korean food menu
korean food culture
jenis korean food
korean street food
odeng korean food