iPhone 12 Pro Max. It is one of four iPhone 12 models this year, and it is the biggest iPhone ever made. And it comes with big ambitions. It has the largest screen ever on an iPhone, it has the biggest camera sensor of any iPhone, including the other iPhone 12s. Has a 5G radio, it's got a bigger battery. This is the most iPhone you can get. And it's priced to match. It starts at 1099 with 128 gigs of storage, and it goes up to 1399 for 512 gigs of storage with no carrier discounts like the regular iPhone 12. It is a lot of phone, it might be too much phone.
Let's start with the size. I am a big phone person, I always buy the biggest one. I spend so much time using my phone that I appreciate a bigger battery and a larger display. And I have big hands, so, it's cool. So trust me when I say the iPhone 12 Pro Max is real big. It's right on the edge of being too big.
The measurements don't tell the whole story. By the numbers, it's just a little bit bigger than the 11 Pro Max. But the new design with flat sides makes it feel much bigger than it is. And it makes it slightly harder to hold than a phone with curved sides. And it's heavier than the 11 Pro Max and the Note 20 Ultra, so it feels even bigger.
When I reviewed the regular 12 Pro, I said it was so pretty that I felt bad putting it into a case. But with the 12 Pro Max, I feel like I have to keep it in its case, just to make it easier to hold. And the case makes it even bigger. So what I'm saying is that it's big. Even if you're a big phone person, I don't think it's too big, it's still workable, but it is right on the edge. And to be clear, I think that choice is a good thing. Apple has more phone sizes available than ever before this year, including the new iPhone 12 Mini. I'm just saying you might want to find a way to safely see the 12 Pro Max's size in person before making a call.
All that size allows for the biggest feature difference between the 12 Pro Max and the rest of the iPhone 12 line, the camera system
. The basics are the same as the 12 Pro, three lenses, a wide, an ultrawide and a tele with a LiDAR sensor that enables portrait photos in night mode. The ultrawide sensor is the same as the 12 and 12 Pro, so I won't spend a lot of time on it, except to say that it's useful and fun to have an ultrawide camera. It's a noticeable improvement over the ultrawide on the 11 Pro, but it still takes basically medium quality photos compared to the main camera. It's that main camera and the telephoto that are very different on a 12 Pro Max.
The wide has the same f/1.6 lens as the 12 and 12 Pro, but it also has a much larger physical sensor that can capture more light with less noise. The wide camera is also stabilized differently than the other 12s which stabilize the lens.
The iPhone 12 Pro Max uses something called sensor-shift stabilization, which moves the sensor itself around to reduce vibration and less blur.
You will notice a huge difference in most cases, but sensor-shift works a little better for things like taking photos out of a moving car. The bigger sensor also has an impressive maximum ISO which is a measure of light sensitivity. The 12 Pro Max has a top ISO of 7616.
All of this means that the wide camera on the iPhone 12 Pro Max is one of the most confident smartphone cameras I've ever used. It can take great photos in a huge variety of situations. But whether you'll get any value out of it all depends on light. In sunlight and other bright situations, photos from the 12 Pro Max and the 12 Pro look identical to me.
And honestly we're at the point where photos from all the major flagships are starting to look the same. Yes, there are differences, the Pixel Five is a little more contrasty. The iPhone still booth shadows most aggressively. And the Note 20 does some weird things with reds and yellows. But when any of these cameras gets enough light, they produce photos that are more alike than different.
It's when the light starts to get dimmer that the 12 Pro Max really starts to stand out. Take this photo I took at sunset.
All the phones did a good job but the 12 Pro Max has far less noise, better and more accurate colors and more detail.
In this shot under slightly darker conditions,
most of the phones automatically shift into night mode where they take multiple long exposures and merge them together.
But the 12 Pro Max's bigger sensor with its higher maximum ISO means it did not automatically go into night mode. You can see that details are crisper, there's less blur, and the photo is overall more true to life.
And when the 12 Pro max does go into night mode, it does it for shorter exposures than the 12 Pro.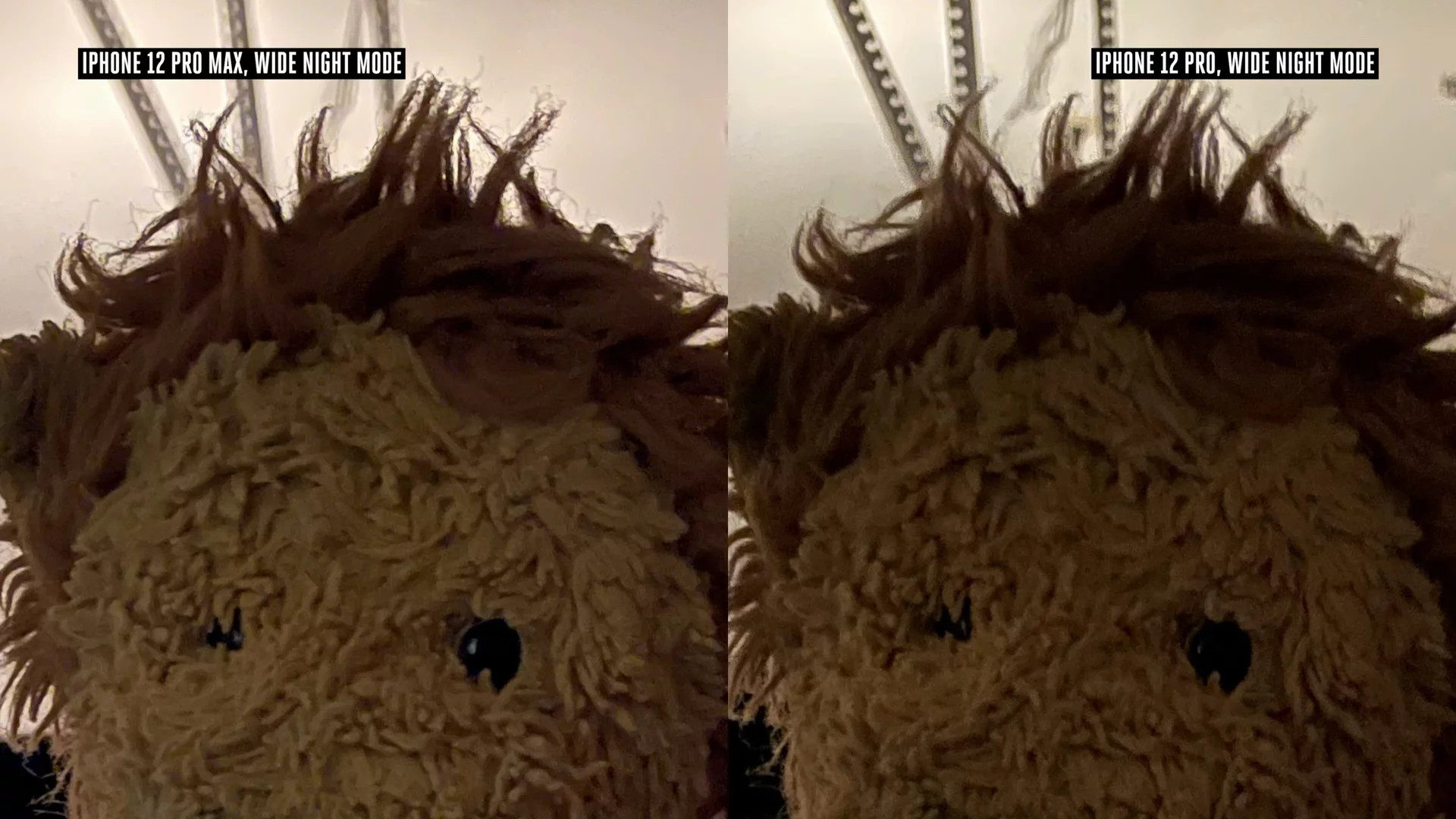 In situations where the 12 Pro would take a three second exposure, the 12 hour max only needed a one second shot resulting in a sharper photo.
The LiDAR sensor means you can shoot portraits in night mode using the wide camera which combined with that better low light performance means that night mode portraits are better and more detailed on the 12 Pro Max than the 12 Pro and Pixel Five.
Look, I'm saying photos in bright light are awash between the flagships, but when it comes to low light, it feels like no contest. The iPhone 12 Pro Max consistently took a better, more detailed and less noisy photos than the Pixel Five and Samsung Galaxy Note 20 Ultra.
Look at how muddy the Pixel Five looks in this sunset photo compared to the Pro Max. Look how overprocessed the Note 20 looks in this comparison.
Apple has definitely moved ahead of the pack here.
The telephoto camera is less straightforward to talk about. It is effectively the same sensor as the 12 Pro, but with a longer 2.5x zoom and the less bright f/2.2 lens instead of the two x f/2.0 lens on the regular 12 Pro.
So a longer zoom that can pick up less light. It's a trade off, but I think it works out. I really like having that tighter zoom and I wanted to use it more, but it performs slightly worse in lower light in the 12 Pro.
That said I think it's less the upper hand compared to the Note 20 Ultra and Pixel Five. Apple smart HDR 3 is really good this year, with excellent noise reduction and vibrant colors that are still accurate.
I'm really intrigued by Apple's new pro raw format that offers the editing flexibility of raw images with the processing of smart HDR, but then it's not out yet. So we'll have to wait.
The benefits of the bigger sensor are less noticeable in video. And really they're only noticeable if you're watching on a larger screen like a TV.
At night, you might see a little more detail and less noise and shadows compared to the 12 Pro. And there's the tiniest bit more detail in bright light, but unless you're looking for it.
We already thought the 12 Pro was ahead of the pack in terms of video, and the 12 Pro Max is maybe a tiny bit better, but the improvement is not nearly as dramatic as it is in still photos.
Two things haven't changed, I did a deep dive on Dolby Vision in our 12 Pro review and all that promises there, as are all the compatibility challenges. And there is still a lot of lens flare going on. That's for days.
All in all, the combination of the larger sensor faster lens improved stabilization to LiDAR and processing power means that the iPhone 12 Pro Max has the best smartphone camera I've ever used. It produces terrific colorful photos with excellent detail in lighting situations where other phones start to struggle. I'm impressed.
Apart from the cameras, the rest of the iPhone 12 Pro Max is very similar to the iPhone 12 Pro. The display is obviously bigger, but it's just as bright and colorful, and the pixel density is essentially the same. And there's not a ton more information presented on the big screen by default. I think that's a shame. This thing is veering into tablet territory in terms of size, and I'd like to see Apple allow app developers to make better use of all this real estate. And it's still a 60 hertz refresh rate screen. Well, every other Android phone worth buying is now at 120 hertz. This was maybe passable on the standard 12, but on a 12 Pro and especially the 12 Pro Max, I think it's a mix. This is the most expensive iPhone with the biggest battery and the display shouldn't be one tick behind the competition. So maybe next year.
Apple and everyone has made a big deal out of 5G on these new phones. And yes, the iPhone 12 Pro Max has 5G radios. Now I tested the 12 Pro on Verizon, which offers ultra fast millimeter wave 5G on various street corners and sports stadiums around the country. But for the 12 Pro Max, I used my personal AT&T SIM card with a 5G plan, and it's fine.
Look speeds where I could find AT&T standard 5G service were not so much better than really good LTE. And AT&Ts a millimeter wave network is essentially nowhere to be found. Making it worse AT&T 5G plans are messy. They all automatically enable something called Stream Saver which streams all video at four ADP. This is a real thing. So you've got a huge phone with a beautiful display and a fast connection that displays most video in a DVD quality. Come on. And I don't mean to just dunk on AT&T.
My friend Sasha Segan at PCMag just released data showing that 5G in the United States is slower than anywhere else in the world. So it's hard to find and it's slower. Everyone should be embarrassed by this. If there is ever a race to 5G, we have lost. I cannot stress this enough. 5G in the United States is more hype than reality, and you should not buy a phone because of it, just ignore it for another year, it'll be fine.
The iPhone 12 Pro Max has the same A14 Bionic chip as the rest of the iPhone 12 line. And as you'd expect, it offers the same terrific performance running iOS 14. And it has a bigger battery, which means I had to work really hard doom scrolling through the election to drain it.
At home on WiFi, I saw screen on times of as long as 14 hours. Now I'm not leaving my house as much and untested a lot on 5G or even LTE, but with numbers like that I would expect overall battery life to be terrific.
So that's the iPhone 12 Pro Max. I'm just gonna say it again, this is a very big phone, big ambition, big camera sensor, big size. I've been using it for a week, I still haven't gotten used to how big it is. And it's gonna be interesting to see how car mounts and cases and so on handle this thing, including all the MagSafe cases and mounts that we're expecting, it's just big. But for that size, you get what I think is easily the best and most capable smartphone camera on the market right now, and a battery that seems to last forever. So if you want to upgrade, it'll be worth it. Those are two dramatic and meaningful improvements for the money. And if you can deal with the size, I think it's worth passing over the 12 Pro and spending the extra hundred dollars on the 12 Pro Max.
The camera and battery are definitely worth it. But I was really honest in the 12 Pro review and I'll be really honest here. The 12 Pro Max feels like the perfect phone for the life I used to lead before the pandemic. I used to spend a lot of time commuting and on airplanes and otherwise out and about getting work done on my phone. I used to go to a lot of events at night, I used to take a lot of photos in bars. I used to care a lot about mobile network speeds.
This phone would have made significant improvements to all of those things. But right now it feels like just another screen for social media on the couch. Like I said I have a kid, I always buy the latest phone to have the best camera that's really important to me. This is the best camera. But if you're feeling that pressure to upgrade and you don't need to, you can wait it out. Maybe 5G will be better next year.