The latest superhero film from the Marvel Cinematic Universe (MCU), Thor: Love And Thunder is finally showing in various countries, including Indonesia. The film stars Chris Hemsworth and Natalie Portman.
Since the first trailer for Thor: Love and Thunder was released, the public has not only highlighted Chris Hemsworth as Thor. Fans of Marvel films have also talked about Natalie Portman as Jane Foster.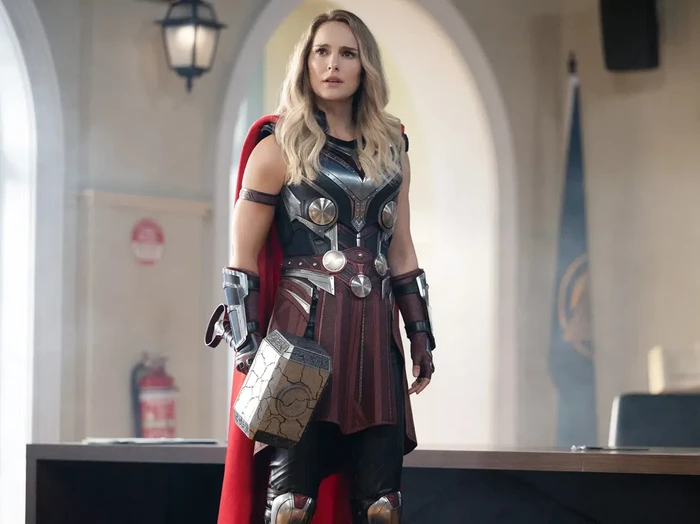 One of the reasons, Portman's appearance is able to attract a lot of attention. He not only played the role of Thor's ex-lover, but also became The Mighty Thor or a female Thor.
Not only wearing a Thor costume, the Jewish-blooded actress also looks impressive with larger arm muscles than usual. Her appearance is a big transformation, considering that in the previous two Thor films, Jane is a professor who has absolutely no physical strength, except for her brain intelligence.
Also Read: Synopsis Thor: Love and Thunder (2022)
From the trailer, Portman even managed to use Thor's hammer Mjolnir which previously could only be lifted by Thor and Captain America.
"For the film Black Swan, I was asked to be as skinny as possible, but for Thor, I had to grow my body as big as possible. This is an amazing challenge and as a woman this is quite a burden on the mind," said Portman, quoted from the Glamor page, Thursday (7/7). /7/2022).
To get a muscular look, Portman is specially trained by Naomi Pendergast, a fitness trainer from Australia's RPX Fitness. According to Naomi, the goal of Natalie's workout is to focus on building up her arm and abdominal muscles.
This exercise is not done haphazardly and with strict supervision. Naomi admitted that she had to prepare Natalie's body first so that there would be no injuries.
This workout for Natalie lasted for five months before filming and continued throughout the filming process to maintain the 41-year-old actress' muscles. According to Naomi, Natalie Portman has been building muscles in her arms and stomach for about 10 months in total.
"To get Natalie to this destination safely without injury, we pre-conditioned her body for about four months. This is necessary so that she can lift weights without affecting her joints," explains Naomi.
Prioritizing the arms and abs, Naomi and her team work out Natalie's upper body three times a week. Activities include arm, back, and chest exercises. In addition there is also boxing, skipping, and running.
Also Read: Synopsis Minions: The Rise of Gru (2022)
"The other two days we dedicate to injury prevention exercises. The sports include basic pilates exercises, stretching, release work and balance training," explained Naomi.
Every day, Portman does a special workout routine for this new Thor movie for 1.5 to 2 hours. Due to the pandemic conditions at that time, he also focused a lot on weight training at home.
"When we started filming, we were only able to practice at the gym. So, we had a lot of access to sports equipment to be able to do the next training sessions," said Naomi.
To start training, Natalie has to warm up with body-weight exercises using a workout band and glide disc. This is done to align the upper body so it can maximize strength.
Portman has long lived a healthy lifestyle. This was confirmed by Naomi. According to Naomi, Natalie is a very healthy person with a healthy and clean diet, so she and her team have not changed her diet much.
The actor in the film V for Vendetta is also a vegan. So during training, Naomi only adds a menu that provides a lot of protein for Natalie's body. He must have enough protein to be able to build the muscles needed.
"So that she has enough protein to produce bulky muscles, we increase the consumption of vegan protein powder several times a day," concluded Naomi.
Ahead of the screening, the cast of Thor: Love And Thunder had already walked the red carpet for the film's premiere in England, Tuesday, July 5, 2022, London time. Stunning appearances were also shown by the big screen stars, including Natalie Portman.
Read To:
So Gorr in Thor 4, Christian Bale was worried about having to use the G-String

Thor: Love and Thunder is the Thor film with the highest box office debut
The Oscar winner stepped out on the red carpet in a stunning red Dior mini dress. The eye-catching outfit was paired with a matching floral headdress.
The 41-year-old actress completed her look with bold red lipstick, colorful pink and purple smoky eyes and matching lace-up heels. Not the first time, Portman has donned another look from Dior during a press tour for the film earlier this week.
In contrast to Portman, her co-actress, Pom Klementieff, chose an all-black yet charming look. It was her first red carpet style for Thor: Love and Thunder. Klementieff teamed an Alexander McQueen Fall 2022 leather biker jacket over a chic mesh dress. She also wears stiletto heels which as a whole blend harmoniously with her smoky eye makeup. Her appearance was praised as "not following trends and knowing her own style."