Traditional software development can be time-consuming, costly, and require specialized skills. It can lead to product launch delays and difficulties meeting customer demands for new features and functionalities.
Fortunately, these issues can be solved using low-code/no-code tools. These solutions eliminate the need for specialized training and coding expertise by empowering non-technical people to construct software applications quickly and easily.
In this post, we'll understand its meaning, benefits, risks, and roles in the future.
What is Low Code/No Code Tool?
Low-code/no-code tools are software development platforms that enable users to build applications with minimal or no programming knowledge. The tools provide graphical interfaces, simple drag-and-drop functions, and various ready-made templates and components, making it simpler for those with no coding experience to construct software applications.
Organizations and people can create custom apps to match their unique needs using low-code/no-code solutions without depending on conventional software development techniques that demand specialized skills and in-depth coding expertise. These technologies are gaining popularity due to their capacity to shorten the time to market, save costs, and democratize software development by allowing more people to participate.
Also, Read Here - How to Build and Manage a High-Performance Remote Software Development Team?
Benefits and Risks of Low Code/No Code Tool
Benefits of Low Code
Low code/no code tools have several benefits in software development. Here are some of them: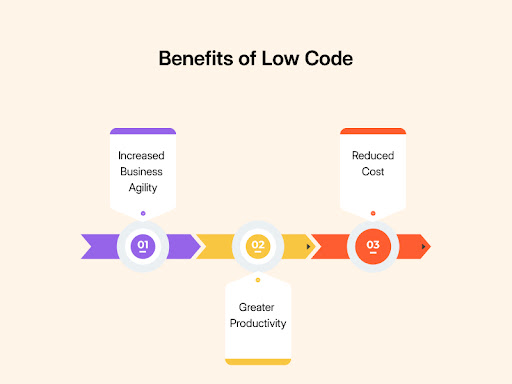 Increased Business Agility:

Most low-code platforms are extendable, offering direct vendor interfaces and allowing IT to transform command lines, web services, and APIs into reusable building blocks.
As a result, it takes less time to integrate and implement new tools and technologies, enabling organizations to keep up with emerging automation trends and customer requests.
Greater Productivity:

IT can accomplish more in less time by streamlining the development process and expanding the usage of automation. Low-code apps can come with technologies that make the process life cycle simpler. It may involve tools for monitoring and alerting employees when a process is in danger of failing.
Alternatively, if a server is at capacity, processes can be rerouted to avoid bottlenecks and delays, or remediation workflows can be carried out to uphold SLAs and reduce the time IT puts out fires. You can hire IT consulting services for expert assistance.
Reduced Cost: Low code software development allows IT managers to do more with less. The tool can do it in a couple of days instead of taking months to produce high-quality enterprise-grade software using the conventional method. Low code gives businesses a more affordable and convenient method to create business processes and workflows tailored to their requirements.
Risk of Low Code
The following are the few risks involved in low code tools.
Low visibility into low code
Using a platform created by a third party is always fraught with visibility issues. Because you are using the software, you are unaware of its source code, potential security flaws, and the level of testing and scrutiny the platform has received.
Using techniques like asking the vendor for a software bill of materials (SBOM) could help to mitigate this. It would shed light on the software components it consists of and the vulnerabilities linked to them. Yet, the usage of SBOMs is still developing, and there is still more that the industry can do to standardize its procedures, methods, and equipment.
Low-code and no-code platforms make it simple to create apps, even for persons without programming experience, which increases the risk of widespread shadow IT. Shadow IT happens when employees and business divisions develop apps and publish them to the enterprise's public or other internal or external users.
If these applications were compromised in a data breach, they might contain sensitive organizational, customer, or regulated data, which might have several consequences for the firm.
When it comes to business continuity, relying on low-code and no-code platforms that are offered as services runs the risk of causing disruptions if the platform goes down. Establishing service level agreements (SLAs) for business-critical applications, including no-code and low-code platforms, is crucial for enterprises.
Low Code Tool Trends Changing IT in the Future
Here are the top low-code tool trends changing IT in the future:
Low Threshold for Application Development
Low-code and no-code platforms are changing the development of apps and software by lowering the entrance hurdle for those without a background in programming. Users can build specialized solutions for their business needs using a simple interface with drag-and-drop capabilities.
Having simple access to app development has a favourable impact on both tech skills and job satisfaction.
According to Microsoft Study, 82% of low or no-code users concur that the technology helps give software consumers a chance to expand their technical and development knowledge.

It has also been demonstrated that no-code or low-code platforms or apps have had an 83% good influence on users' job satisfaction and workload and an 80% positive impact on their morale.
Democratization of Programming
Apps are more important today, not just at work and in business but also in daily life situations like going to the bank, travelling, shopping, or the gym. Professional programmers with significant financial resources are responsible for creating these more sophisticated and complex apps.
But, thanks to a better user experience, simpler apps, such as those for workflow management or data analysis, can be made by non-developers.
The term "democratization of technology" refers to this novel strategy. Organizations perform better due to IT democratization because more individuals outside of IT have access to technical expertise.
Because of low-code and no-code platforms, more and more people without a background in programming can use technology and create customized applications without spending years learning how to code.
Cost and Speed of Development
Time and money are the key factors influencing why many business users prefer low-code technologies.
Platforms for low-code development are now an essential component of a plan to aid in quickly creating and deploying applications. Compared to traditional development, software development with no-code and low-code techniques takes substantially less time.
Furthermore, low-code platforms speed up business operations by facilitating internal information interchange and standardizing the software development process across business and IT departments.
Low code is used in the automation of business procedures.
Enterprises employ technologies like robotic process automation (RPA), artificial intelligence (AI), and low-code application platforms to boost productivity, reduce costs, and improve workflow (LCAP). Using the latter, staff members can build custom applications enabling data collection, management, and business interchange.
Hyperautomation is a contemporary, business-driven method for quickly automating activities. By incorporating it within your company, you can scale it, allow for remote operation, and avoid disrupting your business model.
Low-code software development is currently a significant SaaS trend. Anyone without coding expertise can enter the SaaS market with goods created on a low-code platform because of its low entry barrier.
On the other hand, the significant suppliers of software as a service give their customers access to low-code development tools.
Final Words: Future of Low Code
All in all, the transition has already started and it is accelerating rapidly. Low-code application development is more efficient for companies to pursue digital transformation.
If you are unsure how to start this process, you can hire a dedicated software developers team. Many Software development companies provide enterprise-level hyperautomation services specializing in intelligent low-code automation. Their services span multiple areas, including Business Process Management and Analytics.