Companies have changed how they think about employment and where people work in recent years. Companies must guarantee that their remote workers and those still working in the office work together effectively and efficiently to meet the demands of the new hybrid and remote work culture.
Using employee monitoring software is a helpful tool for tracking and improving overall productivity among your staff. Below, we compare some of the best employee monitoring tools available.
What Is Employee Monitoring Software?
The use of employee monitoring software allows companies to record staff contacts with customers to check service quality and to see whether workers are engaging in valuable time. These tools may keep track of communications like phone calls, emails, and social media posts or even real-time conversations with customers to estimate the effectiveness of new initiatives and guarantee the quality of service provided by staff members. Customer service managers utilize employee tracking solutions to ensure workers are performing well. These tools also help sales teams ensure that the right messages are sent to potential customers when they roll out new pitches or strategies. With the help of these tools, businesses can swiftly assess the effectiveness of their strategies and make adjustments as necessary to maximize growth.
Products that meet the following criteria will be included in the Employee Monitoring category:
Record and analyze employee phone and chat logs.

Keep a close eye on your staff's computers to maintain a constant output rate.

Keep records of conversations for later evaluation of their quality.
Top 8 Employee Monitoring Software
Here is a rundown of the top employee monitoring software products that we'll discuss below.
CleverControl
CleverControl is an online service that helps small and medium-sized organizations stay updated on their workers. Its many advantages include features such as an iPhone app, messenger tracking, internet filtering, activity reporting, printer activity monitoring, and live monitor watching.
To assess things like active time, most used programs and websites, and remote monitoring, CleverControl collects data on employee activity and presents it in an intuitive and visually appealing reporting interface. Features like call recording, webcam recording, and continuous screen recording are also included with CleverControl. You can keep an eye on anything from open programs and websites to social media interactions and online searches.
Use this software to keep track of multiple computers at once, all in real time.
PROS
Live monitoring of computer screens

Attendance recording

Quick and easy installation

Recording of visited websites and used apps

Tracking of active and inactive time

Displaying when employees turned their devices on and off
CONS
The installation is simple. However, some may struggle with the online interface navigation.

Some machines make too many screenshots, so it needs to be turned off.
Spyrix Employee Monitoring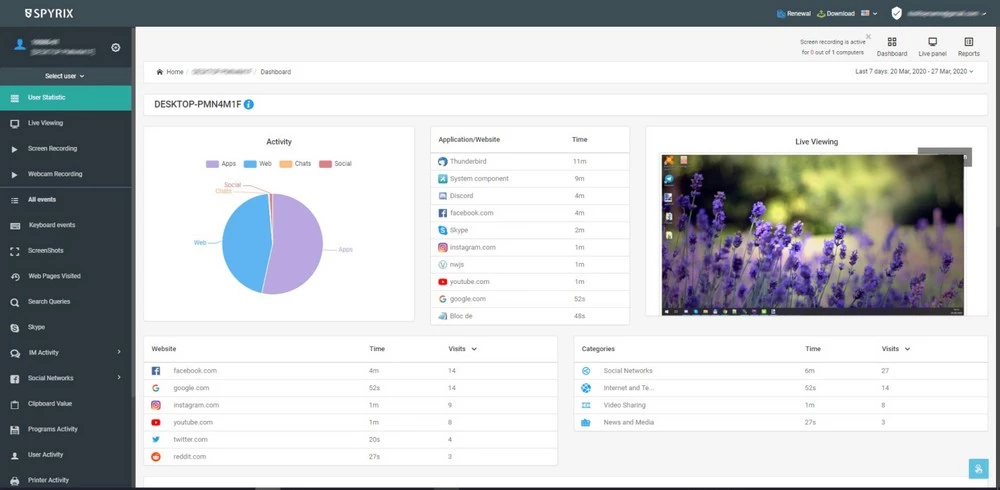 Thanks to its cloud-based feature, the software enables real-time surveillance of employees from any location and any electronic device.
Keylogging, screenshot capture, application, social network, and messaging (Skype, Facebook Messenger, Whatsapp, etc.) usage, online activities, Live Screen Viewing, and Continuous Screen Recording are just some of the methods by which employers may keep tabs on workers' computers.
Spyrix Employee Monitoring collects data on everything that happens on a computer, giving you a complete insight into your employees' inboxes, social media usage, instant message conversations, and more. It will aid in the swift detection of personnel who leak confidential business information to outsiders.
PROS
It is a great keylogger for staff monitoring, particularly for travel managers. It displays all keystrokes in real time.
CONS
It claims to be undetected by the system and target, although it appears in the task manager and system settings.
Actual Keylogger Business
Actual Keylogger is an excellent tool for computer users who desire greater control. Actual Keylogger records every keystroke, but it does much more. The application takes screenshots of all active windows, websites, and social media talks. It also tracks activity on Facebook, Twitter, Instagram, Whatsapp, and 20+ other social media platforms. Actual Keylogger monitors printers, clipboards, portable disks, apps, and users. Site Blocker, which blocks websites by category, URL, or keyword, is another amazing feature.
Finally, the software features a fully hidden mode. After activation, it vanishes from the system tray, desktop, the start menu, and installed apps. It also doesn't appear in Task Manager.
PROS
Easy to use.

Completely Hidden
CONS
More tests are required on this subject.
Controlio
Regarding monitoring how long workers spend on certain projects, Work Examiner Controlio's cloud-based productivity reviews are among the best available. The Work Examiner Controlio software provides detailed information on each employee.
Productivity scores are calculated for each user and each department, productivity graphs are generated, and user activity ratios are monitored. Organizations may leverage the graphs' capability to aggregate data from people and departments to ensure that workers make the most of their time. The process of sorting through information on employees in a huge company is also simplified.
PROS
Automatic app and website classification

Streaming in real time

Tracking each keystroke
CONS
Pricing is complicated.

Location tracking is not available.
ActivTrak
ActivTrak is a type of employee monitoring software that lets you keep track of timesheets, a key feature for organizations that use this type of software. Many kinds of employee monitoring software include timesheet tracking as a standard function. Still, ActivTrak is highly recommended for those who deal with remote workers and must ensure they are actively working on assigned tasks. Like Teramind, ActivTrak's platform charges by the number of users it monitors, but unlike Teramind, it also provides a free tier with limited features.
PROS
Usability and simplicity.

Advanced monitoring interface.

A free plan is offered for up to three people.
CONS
There is no monthly billing option.

Integration with third-party apps is an optional feature with additional costs.

It cannot record any keystrokes.
TrackOlap
TrackOlap is customer relationship management software that coordinates all interactions with customers. This software aids businesses in cutting down on lost leads, speeding up the sales process, and clearing the way for more successful deals.
They provide various CRM reports, such as conversion and activity summaries, that may be used to automate your lead creation activities. Popular with businesses all around the world. Support for both cloud and on-premises deployments is provided.
PROS
This program is useful for monitoring the time and presence of workers on site.

Ease of Use.
CONS
Matching staff locations was difficult.

There are still certain reports that aren't being created.
Teramind
Teramind is a highly secure program that can be used locally or anywhere worldwide, thanks to cloud computing. We recommend it for businesses and sectors where data security is of the utmost importance since it can keep an eye on a wide variety of servers, including Windows, Mac, Citrix, Windows Server, VMware Horizon, VDI, and terminal servers.
Teramind can monitor a wide variety of employee actions, including but not limited to: website and application use; email; online meetings; file transfer; web chats; social media; keystrokes; clipboard functionalities; and print jobs. It is possible to monitor workers' device activity on video and audio and to prevent them from accessing certain websites. We also like that Teramind allows recording to occur only in the event of a breach, providing companies with the flexibility to implement some level of user anonymity. Teramind's remote device management features set it apart from the competition and make it useful for situations when you need to prevent an employee from accessing sensitive corporate data.
PROS
Instrumental and extensive collection of monitoring resources.

Simple interface and dashboard.

Live streaming and recording.

Recording keystrokes.

Flexible deployment for cloud or on-premises platforms.

Guaranteed confidentiality and restricted access.
CONS
Detailed monitoring functions might be difficult to configure.
DeskTime
For freelancers and corporations, DeskTime tracks time on desktop and mobile. It simplifies productivity, performance, attendance, and workflow management. DeskTime increases productivity by 30% in the first week. DeskTime keeps supervisors and team members informed on who's making what and the team's progress.
This is helpful for remote or hybrid businesses. DeskTime includes automated online and offline time monitoring and project management. Custom reports, shift and absence scheduling, optional screenshots, and more. DeskTime works with popular project management and calendar services. This automates time tracking and tracks projects and tasks with one tool.
PROS
Automatic timekeeping.

Integrated invoicing functionality.

Includes a calendar function.

Web addresses, software, and paper trail monitoring.

Managing projects and tasks.
CONS
Unreliable data.

No CSV export option, just XLS!

There is no shift scheduling.
Conclusion
Before installing an employee monitoring program, you should think about your organization's requirements and the value you want to achieve. Then, consider not just the features of the monitoring tool but also how you want to use them and how much input your staff will have in the process.
The new reality of work-from-home has raised the importance of the ongoing debates over the worth of workers' time and labour. As businesses increasingly rely on remote workers, who often keep irregular hours, it has become more difficult for managers to assess and monitor employee performance.
Still, teams need to work together to achieve objectives, and managers should give staff members flexibility in deciding how they can best perform their jobs. This highlights the need to have effective organizational tools and mechanisms in place, especially for remote teams who are no longer part of the traditional office environment. Monitoring systems may also act as beneficial human resources (HR) solutions when properly organized.