When buying or upgrading to a new car stereo, there are a lot of things of thing you need to look at. However, these things might look complicated when we saw them for the first time just like the term "Din" which simply means the size of the car stereo.
Mainly there are two types of Din stereo available, Double Din and Single Din. Some cars/ trucks also support the 1.5 din stereo that why it is always recommended to check the size of your car dashboard when upgrading your infotainment system.
What is a Double DIN Car Stereo?
Double-Din stereo (also known as 2-Din radio) are those radios that come with a size range between 4-inches in height and 7-inches in width. Double Din radios mainly come with a touchscreen display with many advanced features like Apple CarPlay, Android Auto, Bluetooth, GPS Navigation System, and a Backup Camera input.
Also for those who don't know, Car Stereo, Head Unit, and Radio are commonly used for car audio systems. Some people call it Stereo and other call head unit. However, "Stereo" is the more appropriate word to describe the car audio system because when we call it " Stereo" it generally refers to both the head unit and speaker audio system.
Here is what you need to know about double din stereo.
What are the types of Double Din Stereos?
There are two types of double din radio available in the market: Integrated and non-integrated display stereo.
Non-Integrated Display: This type of double din does not come with a touchscreen display, also you can not use any other latest features like CarPlay or Android Auto in this type of stereo. However, you can use Hands-Free Calling and Wireless music streaming via Bluetooth or AUX input.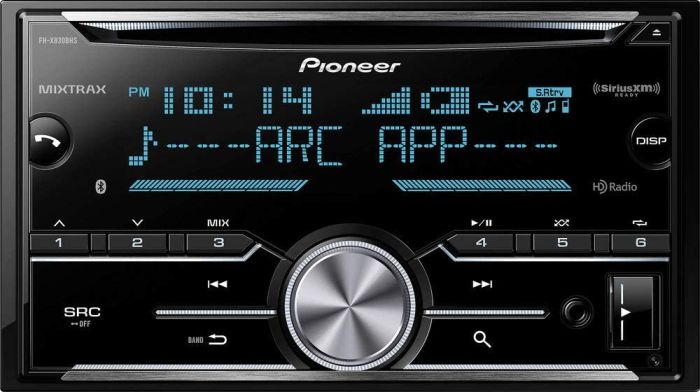 This type of radio is made to make the interior simple and distraction-free. Most of these head units are inexpensive compared to touchscreen head units.
Integrated Display: As the name suggests, this type of double din comes with a touchscreen display, and many features like Apple CarPlay, Android Auto, Mirror Link, Backup Camera input, and GPS Navigation system. This type of double din is usually pricier than the non-integrated display head unit.
There Are Four Types Of Integrated Head Units
Android Head Unit
Wired CarPlay Head Unit
Wireless CarPlay Head Unit
In-Dash Naigation Head Unit
What is an Android Head Unit?
These are those head units that are run on the Android operating system, like Android phones. Some people also called "Android Head Units" are those that are compatible with Android Auto but don't run on the Android OS. These head units are cheaper than the Apple CarPlay head unit. These radios offer many features such as GPS Navigation, Bluetooth, and responsive touchscreen display.
These are those head unit that comes with a built-in Gramin Navigation system. These head units do not require any internet connection for GPS navigation. Lots of features are available in this type of head unit like real-time traffic reports, turn-by-turn navigation, 3D City Map view. Also, If you are interested in this type of head unit, please can this Latest 10 Best In-Dash Navigation Head Unit List.
What is CarPlay Head Unit?
CarPlay head units are those that come with Apple CarPlay features. With Carplay stereo, you can use all the iPhone features on the large touchscreen display of the head unit like Youtube, Pandora, Spotify, GPS Navigation via Google Maps or Apple Maps, and many other apps.
The only disadvantage of these head units is, you need to connect your iPhone with the receiver through a USB Cable which can be frustrating for daily use.
What is Wireless CarPlay Head Unit?
As the name suggests, these head units do not require a USB cable for Apple CarPlay. Wireless CarPlay radios can be connected wirelessly via Wi-Fi or via USB cable. However, these double din radios are quite expensive as compared to the Wired CarPlay Stereo.
How much does it cost to install a double din stereo?
The average cost of installing a double din stereo is ranged between $120.00 – $165.00 depending on where your installation is done. If you are buying a head unit from best buy it will charge you $130 for the installation and $70 for the wiring harness and other spare parts.
Will Any Double Din Stereo Fits in any Car?
You can not fit a double din stereo in any car because some cars are designed for single din radios and some are designed for double din stereo. However, if you want to use a touchscreen head unit in a single din dashboard it, can be possible with the help of Universal or FlipOut Head Units.
Are all Car Stereo Universal?
Most of the car stereos available nowadays are not universal. That's why it is always recommended to select the right size head unit when buying it. You can use this tool by Crutchfield to select the right head unit size for the vehicle.
In case, if your vehicle model is not listed there then you can also measure the head unit size yourself with the help of measuring tape.
There are some head units like Pioneer-AVH3500NEX that can be fitted in the type of dashboard whether your vehicle has space for single or double din.
Is double din stereo better than single din stereo?
In terms of audio quality, both the head units are the same. Both head unit produces same audio quality, you just need to make buy that head unit which has at least 200 watts power output.
There is a myth: when upgrading to a double din you can improve your audio quality, however, this is not true.
Also, If you want a head unit for sound quality, you need to make sure that buy a head unit from branded companies like Pioneer, JVC, or Alpine, or Sony.
In terms of features and compatibility, double din stereos are ways better than single din radios. There are many features available in double din like a touchscreen, Apple CarPlay, Android Auto, Backup Camera input, and much more which are not available in a single din radio.