DOOH explained: What is Digital-Out-Of-Home advertising?
Digital Out-Of-Home (DOOH) advertising involves e-displaying dynamic promotional media such as videos, animations, and brand advertisements. Simply put, DOOH refers to any digitized advertising display that can be seen on the streets or at places of public gathering, such as stadiums and malls.
DOOH has become a rage among the marketing tycoons, for its easy-to-understand operating procedure, besides its tremendous reach and control to the advertiser while catching the audience's attention more effectively than static billboards!
A DOOH software enables advertisers to remotely control what content shows up on the screens at what time, tailor it according to the location, current weather, people frequenting it, and so much more!
But where do Digital-Out-Of-Home ads work the best? Is it only limited to the colossal billboards you see at Central Square? Let's find out.
5 Examples of DOOH advertising that work the best
Over the past decade, online ad pop-ups have risen, but the click-throughs have fallen at the same rate! All thanks to ad-blockers (yeah, that 'stop watching this ad' option, which both you and I have often clicked on!)
Offline advertising still stands strong; especially the outdoor marketing models. With continuous breakthroughs in interactive and programmatic technology, digital-out-of-home advertising has snowballed. Here are some of the most popular types of DOOH that work the best!
1. Digital Billboards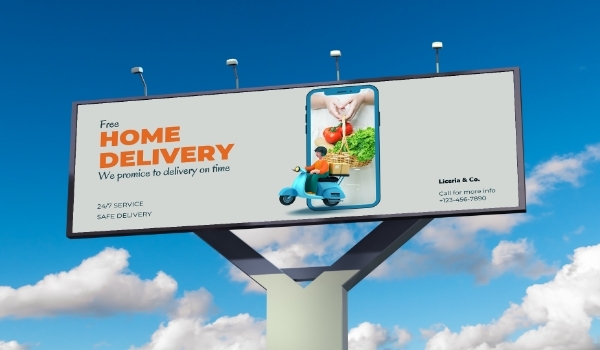 The most prominent and probably the best example of DOOH advertising are the digital billboard signs that showcase your brand ads everywhere- from the packed-up freeways to motel rooftops. Studies indicate that 81% of users engage with brands whose billboards they come across.
Digital billboards have already stepped into the future. 3D digital billboard technology will make these large-scale outdoor advertising content pop out of the screens and almost reach out and touch the viewers at arm's length. Since this form of experiential marketing evokes a sensational 'wow' in the viewers' minds, many predict that 3D digital billboards will soon rule the advertising world.
Originally Published as What is digital-out-of-home advertising, and how effective is it? on Pickcel Digital Signage Blog