bfb

(3)

If you're a computer hardware enthusiast, you probably know that if you want to overclock your CPU, meaning run it at a higher speed, then it would be best to buy an unlocked processor. An unlocked processor means that it has an unlocked multiplier....

Alex

· 01 August 2020

· 4.5K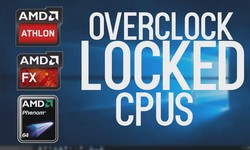 Buy Google Reviews: Boosting Your Business Reputation Ethically In the digital age, online reviews can make or break a business. With Google being a primary platform for user feedback, the importance of positive reviews cannot be overstated. I...
Theresa Freeman483
· 4 days ago
· 4
Revolutionize Your Video Creation with BigVu: A Comprehensive Review Unleashing the Power of BigVu — Your Ultimate Video Content Solution Introduction: In the dynamic world of digital content, video creation has become a cornerstone o...
Eentrepreneur
· 26 November
· 1