car ac repair

(3)

It is a dream to have a car that oozes speed and opulence as it makes a whooshing sound when you drive it past the palm trees and across the high-rise buildings. However, the rising temperature can wreak havoc on your dearest car. Soaring heat and sa...

Alisayblunt

· 28 March 2022

· 178 · 1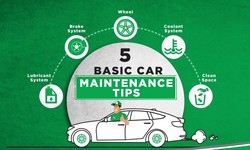 When it comes to maintaining your car, one area that often gets neglected is the car cooling system, including the air conditioning (AC) system. Many car owners tend to overlook the importance of regular car AC maintenance, assuming that it...
Joshua R. Clark
· 18 November
· 3
Introduction When it comes to luxury vehicles like Audi, maintaining their performance and aesthetics requires specialized care from experienced professionals. For Audi owners in Dubai, finding a reputable service center is paramount. This is where "Al-Madina Garage," a prominent Audi garage in Dubai, steps in to offer top-notch Audi repair and ma...
Dar Al Madina Garage
· 16 August
· 10