ecommercewebsite

(3)

B2B e-commerce is one of the fastest-growing segments of e-commerce today. It's expected to reach a value of $375 billion by 2023, up from $240 billion in 2017.  Thing is, if you're thinking of using a B2B e-commerce platform, you're goin...

Manoj Shukla

· 30 January

· 142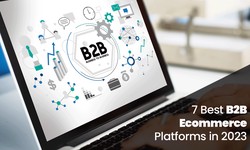 Introduction In today's digital age, taking your auto salvage business online is a strategic move to reach a wider audience and increase revenue. However, selecting the right eCommerce platform is crucial for your success. In this guide, we will wal...
filler team
· 1 week ago
· 4
In the bustling world of e-commerce, user experience reigns supreme. As online shoppers browse through a plethora of products, they seek convenience, efficiency, and personalized choices. This is where an effective product search and filtering system...
Manoj Shukla
· 25 August
· 1