gnome

(3)

Welcome to this week's edition of The Linux Experiment Weekly Update, where we bring you the latest news and developments in the world of Linux. In this episode, we'll be covering a range of topics, from new Linux tablets to exciting updates in the L...

Jacob Enderson

· 17 September

· 44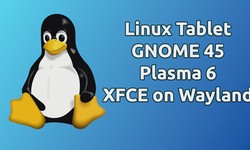 If you're eagerly awaiting the arrival of KDE Plasma 6, you'll need to exercise a bit more patience. The release date has been confirmed, and it won't be available until early 2024. While it may seem like a distant future, this delay is likely aimed...
Jacob Enderson
· 10 September
· 59
In this episode, we'll talk about GNOME 40, Ubuntu 21.04, Parrot OS 4.11, RHEL 8.1's Common Criteria Certification and Red Hat Summit 2021. Debian 10.9 Debian has announced a new release of Buster, otherwise known as Debian 10. Version 10.9 adds so...
Alex
· 14 April 2021
· 147