hire codeigniter developers

(2)

It is becoming a difficult task to build web applications that are scalable and efficient for your business. Competitors are heating up and mobile app development companies are usi...

Shiv Technolabs

· 3 days ago

· 13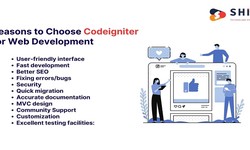 In recent years we have seen most of the debated topics and one of them is Laravel vs. CodeIgniter. For developing custom solutions with PHP development it is important to use a PH...
Shiv Technolabs
· 28 July 2021
· 29