pros and cons

(3)

If you're new to building computers, one of the first little pieces of trivia you'll probably come across is that AMD CPU used pins on the bottom, while Intel ones use little contact pads with the pins on the motherboard's socket instead. But why we...

Jacob Enderson

· 01 May 2020

· 3.6K · 1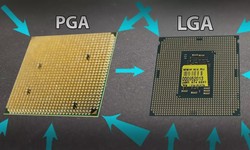 Are you considering the integration of glass railing into your project's design? If you find yourself apprehensive about the installation process associated with this particular railing type, acquiring additional knowledge is imperati...
SEO Team
· 3 weeks ago
· 2
If you're looking for a great fencing material that is durable, low-maintenance, and aesthetically pleasing, then a WPC fence might be the perfect choice for you. WPC stands for a wood-plastic composite, and it is a wpc zaun komplettset mit pfosten o...
Rosie gimmy
· 20 December 2022
· 8