robot

(3)

As technology continues to advance, so does the way we communicate with one another. One of the most exciting developments in recent years has been the emergence of Chat Gpt, an artificial intelligence (AI) language model capable of processing and ge...

S M Ibne Muntasir Al-Mamun

· 20 February

· 44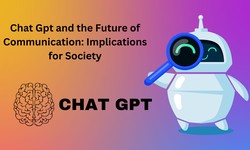 𝐆𝐫𝐚𝐛 𝐏𝐃𝐅 𝐓𝐨 𝐊𝐧𝐨𝐰 𝐌𝐨𝐫𝐞➜ http://bit.ly/3tt8LHd ?               The packaging industry is no stranger to robotics, having implemented robots long before the digital revolution. Though packaging robots may not be anything new, the COVID-19 pandemic has put renewed emphasis on their utili...
Simran Khatija
· 15 November 2022
· 28
The market research study on cyber security in the robotics market from the ESOMAR-certified market research and consultancy organization comprises an industry analysis from 2014 to 2021 and an opportunity evaluation from 2022 to 2029. According to t...
kate
· 16 February 2022
· 58