solar energy led lights

(3)

Outdoor signage is any signage that is installed outside your organisation or in another location that targets your audience. This could be stand-alone, placed on a billboard, hoar...

Beyond Solar

· 03 February

· 1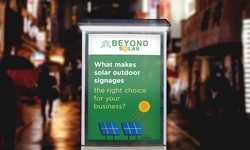 In scientific terms 'Solar Lights' are portable light fixtures powered by the sun's energy. These portable lights are designed with solar energy LED lights or lamps, rechargeable b...
Beyond Solar
· 03 February
· 14
Have you ever pondered over the amount of power consumed by street lights? Let's start small with a table lamp. Your table lamp will consume 7 Watts worth of energy to help you wor...
Beyond Solar
· 03 February
· 14