web development company

(2)

I assume you've just installed Drupal 8 on your system and now you are looking forward to getting your website up & running fast. Yes! I was also excited to use all the amazing fea...

22 July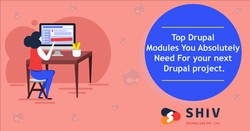 There's no doubt that the twenty-first century is a digital age. And, in order to create an application in this age, particularly from the ground up, you'll need a software stack t...
22 July