writing skills

(3)

Want to pursue your career as a content writer? To be a successful writer, you need to have good research, communication, and writing skills and a good grip on grammar & vocabulary. Paraphrasing is one of the most important skills you need to learn a...

jaissee lili

· 29 August

· 2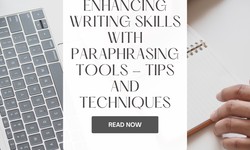 Writing is an essential skill that plays a significant role in our lives. From academics to professional life, writing is crucial in almost every aspect. It is a skill that can be learned and improved with practice. Writing is not just about structur...
Universal Latest News
· 31 May
· 7
If you're looking to improve your writing skills, there are a few things you can do. First, make sure you're using proper grammar and punctuation. Second, practice making your writing interesting and engaging. Third, find a style that suits you best...
shanza altaf
· 25 January
· 65 · 1