nti-trans stalkers at Kiwi Farms are chasing one victim around the world. Their list of targets is growing.
A trans streamer and a Republican congresswoman were targeted at their homes in the last month. Experts warn this is just the beginning.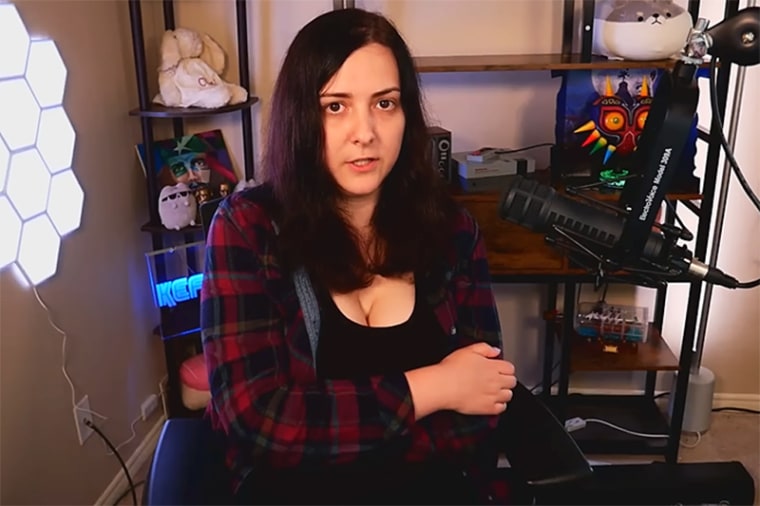 Keffals speaks about her swatting experience on her YouTube channel.Keffals via YouTube
Kiwi Farms is an internet message board known for being an epicenter of vicious, anti-trans harassment campaigns. It has operated for nearly a decade with the backing of some tech companies that refuse to drop services for it. But now, as the site's users launch a wave of anti-trans attacks, a trans Twitch streamer targeted by Kiwi Farms is spearheading an unprecedented campaign to take down the fringe website.
Clara Sorrenti and those supporting her are hoping to open up Kiwi Farms to debilitating virtual attacks by demanding Cloudflare, one of its internet security service vendors, drop the site. Cloudflare has so far refused to budge.
In a public statement posted Wednesday, under Cloudflare CEO Matthew Prince's byline, the company said that it for any of its customers. (The statement did not mention Kiwi Farms by name.) A Cloudflare representative referred NBC News to the blog post when reached for comment.
If the ongoing efforts to close the forum fail, experts warn Kiwi Farms' target list and techniques could expand as culture war issues gain more attention ahead of the 2024 election, potentially affecting more LGBTQ private citizens or creating a national security threat with the expansion of Kiwi Farms' harassment tactics to new targets.
Kiwi Farms has become synonymous with doxxing (the release of an individual's identifying information with malicious intent), swatting (a term for when an anonymous person sends an urgent, false tip to the police about a violent crime in a victim's home in the hopes that law enforcement will raid it and potentially harm the person inside), and archiving controversial materials such as manifestos by mass shooters and recordings of their livestreams.
Copyright TechPlanet.today
The forum is a massive archive of sensitive information on their targets, which has been used to repeatedly harass them. Kiwi Farms' most notorious section is titled "lolcows" and targets transgender people.
The archive often features social media pictures of their targets' friends and family, along with contact information of their employers. The information is used in an effort to get their targets fired or socially isolated by spreading rumors that they are pedophiles or criminals.
Experts fear Kiwi Farms is starting to target other communities — and that their tactics are being duplicated throughout the political world to intimidate political enemies.
"This kind of Kiwi Farms thing could easily become, say, an FBI agent database. It would not be hard," warned Fredrick Brennan, who previously worked with the founder of Kiwi Farms at another extremist site, 8chan. Brennan believes that the harassment techniques being used to target trans people now could easily be channeled toward larger goals and government targets — including other recent
Kiwi Farms is owned and operated by Josh Moon, a former administrator of 8chan, a forum that became known as a dumping ground for white nationalist screeds posted by mass shooters and the conspiracy theory movement QAnon. Brennan, the founder of 8chan who has spent the last several years trying to take down the site he created due to its adoption by extremists, said he worked with Moon for years in Manila, Philippines, as a fellow 8chan administrator.
Brennan said that, while websites like 4chan and 8chan can pose substantial national security risks, "what Moon is doing is worse, because he's actually targeting specific people" on a more organized website.
When reached for comment, Moon replied via email, "The press are scum." He did not respond to specific questions.
Unlike sites like 4chan, where administrators have little direction over the harassment campaigns of its userbase, Brennan said Moon's power over Kiwi Farms is different. Moon is himself a frequent poster and moderator on Kiwi Farms, under the username Null.
"Kiwi Farms is extremely centralized, with Josh Moon right at the top deciding who is the target and who's not," said Brennan. "He can delete any thread for any reason."
Moon frequently participates in discussion threads about individuals who are being targeted on the site, posting personal email correspondences and encouraging the discussions. On Friday, Moon replied in a thread dedicated to posting personal information of "trans-identified activists" that he does "regularly curtail posts which detract from the overall quality of the site."
https://documenter.getpostman.com/view/23149255/VUxSt64h
https://documenter.getpostman.com/view/23149255/VUxSt64g
https://documenter.getpostman.com/view/23149255/VUxSt5zP
https://documenter.getpostman.com/view/23149255/VUxSt5zN
https://documenter.getpostman.com/view/23149255/VUxSt5zQ
https://documenter.getpostman.com/view/23149255/VUxSt64f
https://documenter.getpostman.com/view/23149255/VUxSt5ux
https://documenter.getpostman.com/view/23149255/VUxSt5uv
https://documenter.getpostman.com/view/23149255/VUxSt5uz
https://documenter.getpostman.com/view/23149255/VUxSt5uy
https://documenter.getpostman.com/view/23149255/VUxSrQRr
At least three people have died by suicide after becoming targets of Kiwi Farms harassment campaigns, according t 2016, the family of a trans person who died by suicide, Lizzy Waite, was harassed by Kiwi Farms trolls for weeks after her death. She had posted a suicide note on Facebook.
Sorrenti became a target of Kiwi Farms after she gained notoriety for speaking about the recent wave of anti-trans legislation in the U.S. and challenging conservative viewpoints and personalities online. After a streamer who criticized Sorrenti was banned from Twitch in March, Kiwi Farms users created a discussion thread about Sorrenti that included sexually explicit material of her, phone numbers and addresses belonging to Sorrenti and her family, and her dead name — the name she used before her gender transition.