url opener

(3)

The internet is a huge treasure trove of information and a very useful tool for both businesses and people. But it can be hard to get to the data that is stored online, especially...

John William

· 2 weeks ago

· 4

Bulk URL Opener - Quickly Open Multiple URLs at Once Opening multiple URLs at once can be a tedious and time-consuming task. Fortunately, there are several tools available that ca...

John William

· 27 February

· 10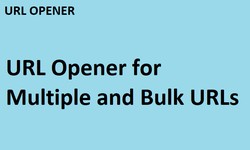 The target market and the objectives have a big impact on how specific the hypothesis needs to be. However, there are some strategies that anyone may apply to boost conversion rate...
Nina Williams
· 25 January
· 6