Hiring is a daunting task. A recruiter goes through thousands of resumes to confirm whether the skills and experience of a candidate meet the job requirements. It can cost a recruiting team dozens of hours they could otherwise spend on valuable processes.
"This ATS Detailed Guide is originally published on GoHire Named as Applicant Tracking Systems: A Detailed Guide for Recruiters."
To speed up, streamline, and automate the hiring process, over 99% of Fortune 500 companies use applicant tracking systems. If you're also looking forward to reducing hiring costs and offering the best experience to candidates, an applicant tracking system can be the right tool for your recruiting teams.
Introduction to applicant tracking systems (ATS)
What is an applicant tracking system?
Applicant tracking system (ATS) is an HR software hiring teams use to store and manage resumes and job applications. Its purpose is to help hiring managers become more productive by letting them discover, screen, interview, and hire top candidates faster.
Here's what an ATS software typically does:
Storing job seekers' information like resumes, cover letters, and references at a centralized location where the HR team can easily access it.
Discovering top candidates for a role and managing their application status throughout the hiring pipeline.
Screening out unqualified and passive candidates and recommending top candidates based on the parameters set by HR.
Improving the hiring process by automating time-consuming tasks like manually screening candidates, scanning resumes, setting up interviews, and sending emails to candidates.
How does an applicant tracking system work?
The high-level functionality of an ATS is to store, scan, and shortlist resumes based on qualifications and experience. For a better overview, let's break it down:
Step 1: Recruiters post job openings on job boards and job posting sites. It includes job descriptions and desired requirements for the job.
Step 2: Jobseekers submit their resumes for the open position.
Step 3: ATS parses the information and stores it in a centralized database. It uses keywords and algorithms to scan and parse resumes and applications - extracting information like job titles, skills, and education. Hiring managers can also use ATS to screen out resumes and cover letters by comparing the information job seekers have provided with the specified preferences for the open position.
Step 4: Resumes meeting the criteria are forwarded for further review, while those that do not are rejected or placed in a separate database for future consideration.
Step 5: The company's hiring managers search and sort the information in the applicant tracking software to hire the best candidates.
Step 6: Hiring managers schedule interviews with selected candidates to further asses them and hire the right candidate.
Besides tracking and managing job applications, applicant tracking software also have features for communicating with job seekers, setting up interviews, and tracking applicants' status throughout the hiring process. Some ATS systems also offers reporting and analytics features that allow recruiting teams to track the effectiveness of their hiring processes and make data-driven decisions in the future.
Types of ATS for recruiters
Here are some common ATS systems used by recruiting teams to manage the hiring process:
1. Cloud-based ATS
The cloud-based ATS software are hosted on remote servers. Hence, recruiters can easily access them from any device via an internet connection. This type of ATS is the best for remote hiring teams as they operate from multiple locations.
The cloud-based ATS is easier to set up and maintain as the provider handles technical support and updates. Also, a recruiting team don't have to purchase and maintain on-premises software and hardware.
However, there may be a monthly or annual subscription fee, and recruiters don't have the same control as an on-premises system.
2. On-premise ATS
Unlike the cloud-based ATS, an on-premise applicant tracking system (ATS) runs on the company's servers and computers. As a result, the company has complete control over the application and data. However, it is only accessible within the company's network.
Large organizations with a dedicated IT team and resources use on-premise ATS as it needs dedicated resources to ensure security.
3. Integrated ATS
The purpose of an integrated ATS is to work seamlessly with other tools in an organization, such as:
Job boards
Social media platforms
Background check providers
A Human Resource Information or Management System (HRIS or HRMS)
Integrating the ATS with these tools lets businesses streamline their recruitment strategies and manage all the HR data at one location. They can also make their hiring process more efficient by automating mundane tasks and getting the most out of these HR tools.
4. Standalone ATS
A standalone ATS doesn't integrate with other HR tools. Instead, it focuses on specific tasks like posting job vacancies, tracking applicants, and setting up interviews. While such ATS software is affordable, they don't offer the same efficiency and seamless working level as an integrated ATS. Small companies with a tight budget prefer using standalone ATS.
5. Open-source ATS
A community of users and developers develops and maintains open-source ATS. JobAdder, OrangeHRM, and OpenCATS are examples of such ATS software.
An open-source ATS is cost-effective as there are no licensing fees or ongoing costs. Also, businesses can easily modify the source code to customize an open-source ATS to meet their business needs. However, they'll need technical expertise as they'll not get the technical support proprietary ATS systems offer.
How is an ATS different from other HR tools?
An ATS aims to help businesses effectively manage the hiring process. It focuses on recruitment activities like posting jobs, receiving and tracking job applications, and setting up interviews.
On the other hand, the other HR tools solve general tasks. Businesses can use them to manage various employee lifecycle aspects, such as benefits, payroll, performance evaluations, and employee training. Businesses can also integrate ATS with other HR tools, like an ERP system, to manage the candidate journey, from recruitment to retirement.
Candidate relationship management (CRM) and applicant tracking system (ATS): What's the difference?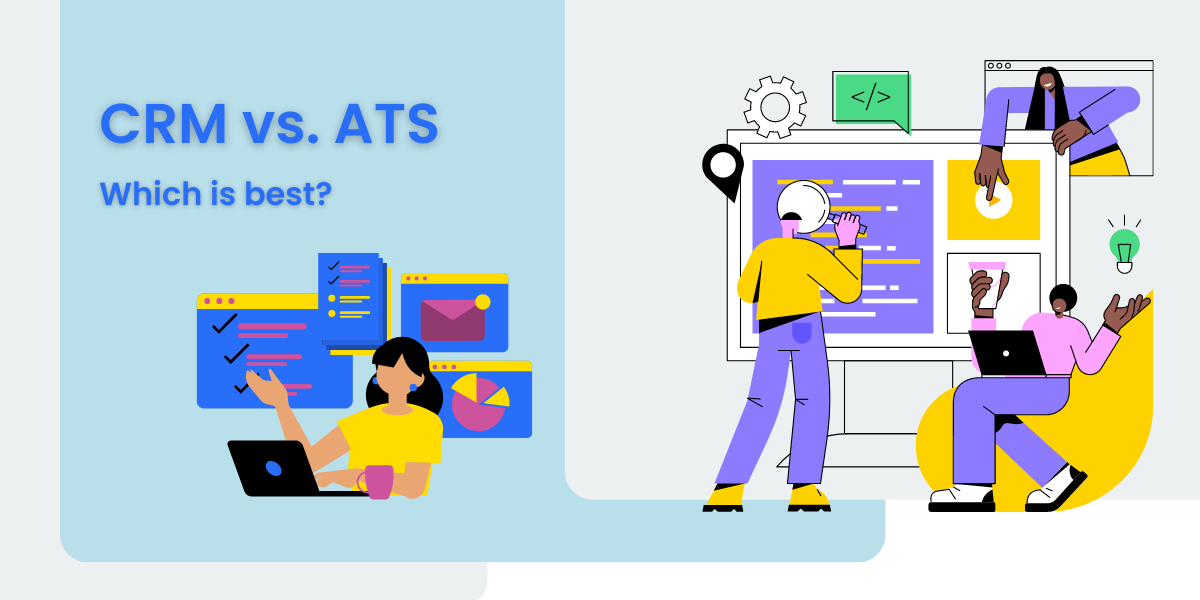 Here's the significant difference between a candidate relationship management (CRM) system and an ATS:
A CRM system manages and improves relationships throughout the candidate journey. Recruiters use it to track and communicate with job candidates throughout the recruitment process, from initial contact to the final offer.
On the other hand, an ATS aims to manage the hiring process and improve the candidate journey. Employers use it for specific purposes like posting job vacancies, receiving and tracking job applications, and setting up interviews.
In short, while a CRM system and an ATS aim to manage relationships and data related to the recruitment process, they have different goals and functions. A CRM system focuses on improving and managing relationships with job seekers. ATS aims to streamline the hiring process and make it easier for employers to identify and hire best candidates.
Who uses ATS [Usage of ATS]
According to JobScan, at least 494 fortune 500 companies use an applicant tracking system, which is 98%. The number is 66% for large companies and 35% for small businesses.

A long list of compelling advantages is why many recruitment teams choose an ATS for the recruitment process. Here are some such benefits of ATS software for recruiters:
A. Saving Time & Costs
The average cost-per-hire is $4000 and 24 days per worker. The cost and time may even add up depending on the business size.
The ATS can reduce time and costs by automating tasks like posting job ads, tracking job applications, and scheduling interviews. Also, since ATS is subscription-based, businesses only need to pay for the services and features they need. This way, companies can save money they otherwise had to spend on hosting on-premise software and servers.
B. Streamlining the onboarding process
According to the stats from SHRM, 69% of employees prefer staying with a company that offers a great onboarding experience. Hence, ensuring that recruiters provide a great onboarding experience to employees is essential.
An ATS streamlines the onboarding process by storing the candidate information at a centralized place and using these details to automate the recruitment process. This way, recruiters can take the load off their shoulders while inducing a new hires into their organization from day one.
C. Improving the hiring process by reducing paperwork
Paperwork can be overwhelming. It swells the budget of recruitment teams and consumes an insane amount of administrative time. It is a significant concern as HR managers spend around 33% of their time on tasks like payroll and administration, leaving them with less time for strategy, training, and employee engagement.
With an ATS, businesses can reduce paperwork by e-verifying crucial documents like resume screening, background checks, and onboarding. It would leave them with enough time for tasks that matter.
D. Improve resume screening
According to an eye-tracking study, recruiters and hiring managers can only spend 6-8 seconds on a resume. Evaluating a candidate in such a short time is not easy. Recruiters may even skip the most brilliant candidates just because you had to review hundreds of resumes in a limited time.
An streamlines the resume screening process with its resume filtering function. With it, recruiters can evaluate hundreds of resumes in a few minutes. They only need to specify job-specific words or phrases, and the ATS will score the resumes on a 0-100 scale.
The result: They have a long list of qualified candidates ranked according to their scores.
In short, recruiters should invest in ATS software because it eases the hiring process by taking a massive load off their shoulders. As a result, they have enough time to spend on things that matter and can improve the employee experience.
How accurate is ATS software?
The accuracy of ATS can vary. Some ATS are highly accurate and can effectively identify the most qualified candidates for a given job. Others may be less accurate and miss some qualified candidates or include unqualified candidates in the pool of potential new hires.
Several factors can impact the accuracy of ATS software:
Quality of data: The accuracy of the ATS depends on the quality of the data it is processing. The ATS may make incorrect decisions if the job descriptions, resumes, and other data inputs into the system are inaccurate or incomplete.
Algorithms: The algorithms used by the ATS to analyze and score job candidates can also impact its accuracy. The ATS may make incorrect decisions if the algorithms are poorly designed or trained on insufficient or biased data.
Customization: Many ATS allow employers to customize the system to meet their specific needs and preferences. If the system is not adequately customized, identifying the most qualified candidates may not be as accurate.
Overall, recruiters can improve the accuracy of ATS software by ensuring that the data input into the system is accurate and complete, using well-designed algorithms, and properly customizing the system to meet the employer's needs.
Process of choosing the right ATS
How to identify your ATS requirements?
You can follow the following steps to identify your ATS system requirements:
Step 1: Define your recruitment process
Identify the steps involved in your recruitment process and the tasks you need to support with an ATS. It may include posting job ads, receiving and tracking job applications, scheduling interviews, and conducting background checks.
Step 2: Identify your business preferences
The next step to identifying an ATS is considering your business needs and preferences. For example, do you need a system that can handle high volumes of job vacancies and applications, or do you only need a basic system to handle a few openings simultaneously? Do you need a system integrated with other HR systems, or are you looking for a standalone solution?
Step 3: Determine your budget
Consider your budget for an ATS and whether you are willing to pay for a subscription-based system or you would prefer to purchase a one-time license.
Step 4: Research your options
Research different ATS options and compare their features and pricing to determine which meets your needs and budget. Consider asking for demos or trial periods to see how the systems work.
Step 5: Seek input from stakeholders
Involve key stakeholders in identifying your ATS requirements, such as HR professionals, recruiters, and hiring managers. They are a goldmine of information and can offer valuable insights.
What features does the best ATS have?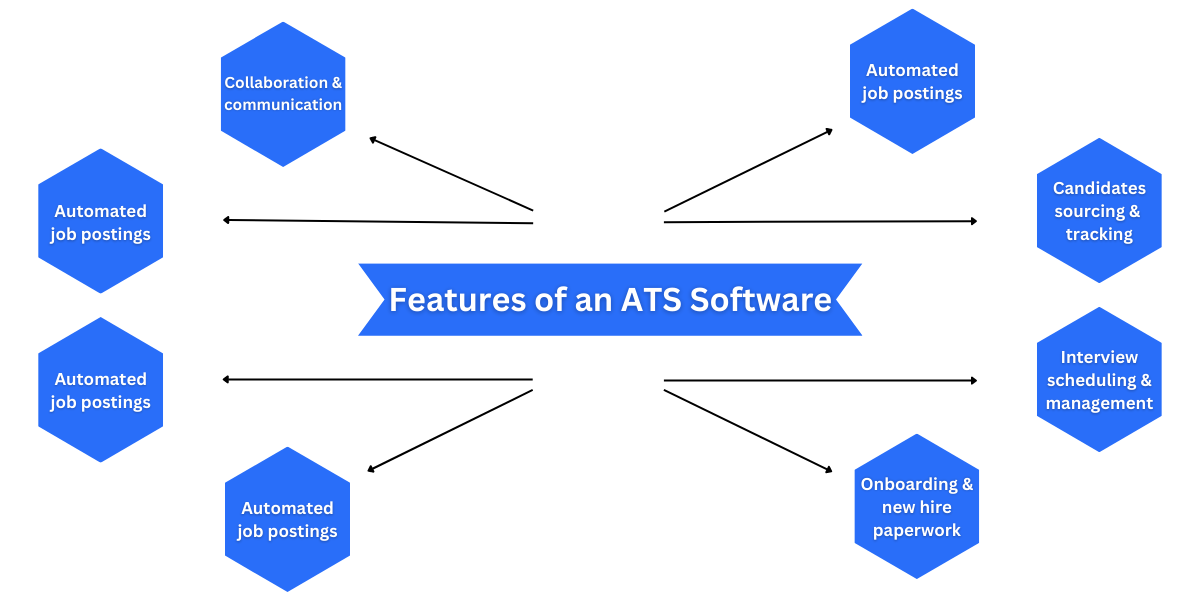 The best modern applicant tracking system (ATS) features differ depending on an employer's needs and preferences. However, here are some features that all the best ATS systems include:
Automated job posting and application management: Hiring teams should be able to quickly publish job postings and manage job applications in an ATS. It should also allow them to receive and track resumes and cover letters.
Candidate sourcing and tracking: An ideal ATS has tools to help recruiters find and track potential job seekers, such as resume databases, job board integrations, and social media integration.
Interview scheduling and management: Hiring teams should be able to schedule and manage interviews within the ATS. The ability to send invitations and confirmations and track attendance is also essential.
Onboarding and new hire paperwork: The ATS system should have tools to help manage the onboarding process. It should also allow recruiters to handle complete new hire paperwork, such as offer letters and employment agreements.
Collaboration and communication: Recruiters and other stakeholders should be able to collaborate and communicate within the ATS. Hence, shared calendars, task lists, and messaging are must-haves.
Analytics and reporting: An ATS should have tools to help track and analyze recruitment data, such as candidate flow and time-to-hire metrics.
Customization: The ability to customize the system to meet the employer's specific needs and preferences is a must-have in an ATS.
Integration with other HR systems: Recruiters should be able to integrate with other HR systems, such as payroll and benefits systems, in their ATS application. It would improve efficiency and coordination within the organization.
Top 10 applicant tracking systems (Worldwide)
1. GoHire
GoHire is a simple, user-friendly applicant tracking system (ATS) trusted by over 300 companies worldwide. It helps companies become more productive by effectively managing their recruiting effort.
GoHire offers the following features:
Powerful employer brand tools to attract top talent
Posting job descriptions on multiple channels
Setting up interviews
High-quality tracking of applicants throughout the hiring process
You can access GoHire anywhere, anytime
2. Pinpoint
The Pinpoint application tracking system is a powerful tool for in-house talent acquisition. It is easy to use and offers an intuitive design. As a recruiter/hiring manager, you can quickly get along with this ATS system. You can also access support from the customer success team if anything goes wrong.
Pinpoint offers the following basic features:
Job board multiposting and social media advertising
Unlimited, customizable workflows
Automation and interview scheduling
Employee onboarding
You can also access data protection and security features like single sign-on, two-factor authentication, and tools to help manage compliance with local regulations like the GDPR/CCPA in the Pinpoint ATS.
Here are a few additional features that make Pinpoint stand out:
Custom careers website
Blind screening to help reduce unconscious bias
Candidate scorecards for gathering fast and objective hiring manager feedback
A suite of reporting tools, including a custom report builder.
Pinpoint supports integration with hundreds of other platforms. There's also a Zapier integration that allows you to integrate with 3,000 other tools for maximum productivity.
However, the downside is that some of these features of the Pinpoint ATS are only available in the enterprise tier. You may need to spend a few more bucks to make the most of it.
3. Freshworks
The Freshworks ATS is ideal for all business types, especially for businesses with evolving needs. It is forever free for managing up to 50 employees, three job postings, and an employee directory. Even if you decide to upgrade, the plans are affordable at $71 per month plus $1.20 per employee/per month.
Here are some brilliant features that Freshworks offers:
Best-grade application tracking
Automated job posting on career websites
Tools for organizing and reviewing resumes
Communication tools like email templates and automated messages
Interview scheduling
Collaboration tools like shared notes and task lists
Integration with external tools like Slack and Google Calendar
The downside of Freshworks is that there are quick jumps in pricing as you upgrade further. It also doesn't offer the level of customization other ATS software may offer. Also, it may not be the most affordable option if you only want applicant tracking, not the other HR features.
4. JazzHR
The JazzHR ATS software aims to help small and medium-sized businesses streamline their hiring process. It contains tools for job posting, resume management, high-quality applicants tracking, and scheduling interviews.
Jazz HR offers the following features:
You can create processes that best suit your business needs using the customizable workflows of JazzHR.
The ATS software lets you automate mundane tasks to ensure you can focus on things that matter.
JazzHR lets you collaborate and work as a team to ensure you bring top-notch talent into your organization.
You can easily create and publish job postings on popular job boards and your company website in JazzHR.
JazzHR offers tools for organizing and storing resumes and other candidate information in a central location, thus improving the candidate experience.
You can track the progress of job applicants through the hiring process in JazzHR, making it easy to see where each candidate is in the process.
JazzHR also has interview scheduling, offer letter management, onboarding, and report & analytics features.
5. Jobvite
This cloud-based, candidate-focused ATS is best for medium and large-sized organizations. With Jobvite, you can streamline the hiring process and save time on tasks like posting jobs, organizing resumes, scheduling interviews, and onboarding new hires. It lets you reach out to jobseekers through social media, create and manage mobile-optimized career websites, and seamlessly onboard new candidates.
Jobvite offers the following features:
Automatic screening and interview-based candidate ranking
Jobvite improves the candidate experience by maintaining all conversations with specific candidates across all channels at a single location.
Powerful search tool for discovering jobseekers by keywords, workflow, location, name, or application date.
Mobile-friendly application processes for job seekers
Easy employee referrals
You can schedule multiple interviews easily with the intelligent scheduler feature.
6. SmartRecruiters
SmartRecruiters is a cloud-based ATS that helps organizations to find, hire, and onboard top talent. Its purpose is to help recruitment teams find and hire best candidates faster by streamlining and automating the recruitment process.
SmartRecruiters offers the following features:
A pre-integrated assessment tool.
Better communication via scheduled notifications and auto-replies.
Easy message record tracking.
Personalized tags to better manage candidate experience.
Advanced search filters to help recruiting teams find job seekers faster.
7. Greenhouse
The Greenhouse ATS can help recruiting teams efficiently manage recruitment strategies by automating tasks, capturing and tracking data, and providing reports. It lets them collaborate among team members, hire candidates through multiple channels, and build an immersive candidate experience. The ATS is ideal for businesses that want to streamline their recruitment process.
Here are the features that Greenhouse offers:
Sourcing candidates through social media
Improving candidate engagement through candidate search, identification, and job postings
Ability to customize the career page based on business needs
GDPR Compliance
Enhanced security
Easy integration that allows seamless data transfer among Greenhouse and other HR systems.
8. BambooHR
This all-in-one HR management software takes the guesswork out of HR operations and streamlines recruitment efforts through high-quality tracking of applicants throughout the recruiting process. If you're looking for a comprehensive human resources platform that acts much more than ATS software, BambooHR is an ideal solution.
BambooHR offers the following features:
Benefit and payroll administration
Employee and manager self-service
A Centralized employee database
Document storage and management
eSignature
Performance management
Reports / Analytics
Alerts (for training deadlines, license renewals, birthdays, etc.)
9. Bullhorn
The Bullhorn ATS helps recruiting teams quickly find ideal candidates by streamlining the recruitment process. Equipped with features like advanced reporting objects, visualization, and integration with effective vendor management systems - it is an excellent ATS software for businesses looking for easy ways to hire new candidates.
Here are some impressive features of the Bullhorn recruitment software:
Job posting on job websites and social media platforms.
Tools for resume review, storage, and management in a centralized location.
Improving candidate engagement by tracking their progress throughout the hiring process.
Reporting and analytics to track the effectiveness of their recruitment efforts.
Integration with other HR systems and tools like payroll software and employee benefits platforms.
10. Workable
The Workable ATS is available for all businesses but works best for IT companies. With it, recruiting teams can manage the recruitment experience throughout the candidate journey, i.e., from when recruitment agencies post jobs to when they onboard the new employee.
Here are some basic features that Workable ATS offers:
LinkedIn integration
job description templates
Email and calendar sync
Interview kits and scorecards
Essential reports
Offer letters with e-signatures.
HRIS integration
In addition to these basic features, HR teams can experience the following advanced features for an additional fee:
advanced careers page builder
interview self-scheduling
full reporting suite
CSV export
Native language option
Referrals portal with reporting
Automated actions
Custom hiring pipelines
Developer API
Among many upsides, the only downside of Workable is that it is expensive. But a business can go for a pay-as-you-go plan if they can't afford to pay upfront.
Top 6 UK-based ATS
1. GoHire
GoHire is a UK-based applicant tracking system designed to streamline the recruitment process. It includes the following tools and features:
Multi-site job posting
Resume parsing
Applicant tracking system
Employer branding
Interview scheduling software
Candidates sourcing
2. Eploy
This recruitment software includes an applicant management tool to help businesses find, engage and recruit candidates faster. Eploy has the following features:
Candidate search and background screening tools
Third-party software integration
Compliance tracking
Interview scheduling
Calendar syncing
Resume parsing
3. EVA-REC
The EVA-REC ATS recruitment software lets recruiters streamline their recruitment effort by automating manual tasks, workflows, and hiring pipelines. A few impressive features of EVA-REC are:
Automatic and customized updates to jobseekers on their application status.
Improved candidate engagement through course recommendations
Third-party integrations to other apps, online course providers, and social media.
Collaboration tools
Research & Analytics
Calendar management
4. Firefish
The FireFish ATS has many features that help recruiters discover and hire suitable candidates faster. Some of these features are:
An employer portal to track where candidates are in the hiring process.
Job posting on different social media channels and job portals.
Resume parsing
Collaboration and team management tools
Better candidate engagement through automated job alerts, interview details, and personalized mass emails
Third-party integrations
5. Betterteam
Betterteam is a user-friendly recruitment software designed to help businesses better manage their hiring efforts by streamlining the entire recruitment process. It offers the following features:
Better candidate engagement through social networks job posting and candidate sourcing.
Vacancy Posting on career websites.
Job Portal Designer.
Job Ad Builder.
Email Clients Integration.
6. CakeHR
CakeHR is an end-to-end recruitment software for automating repetitive tasks like application tracking and onboarding. It offers the following features:
Detailed reports
Interview scheduling
Applicant import
Application form builder
Custom pipeline stages
Pipeline stage triggers
Careers page
Sourcing candidates through multiple channels.
7 tips to follow while choosing an ATS
Choosing an ATS is no piece of cake. Without the proper guidance, hiring team can make a wrong choice and regret it later. Always consider these 7 simple yet critical things while buying an ATS software if you as a hiring manager doesn't want this to happen:
1. Determine your business needs
Before looking for an ATS, take some time to determine your organization's specific needs. Consider the size of your organization, the number of job openings, and the types of positions you are hiring for.
2. Research different ATS options
Once you know what you're looking for, start researching different ATS options. Look at various vendors and compare their features and pricing.
3. Test out the system
Many ATS vendors offer free demos or trials, so take advantage of these to see how the system works and whether it meets your needs.
4. Consider scalability
If you expect your organization to grow or have a high volume of job openings, choosing an ATS that can handle the increased volume is essential.
5. Look for integration capabilities
An ATS that can integrate with other HR systems, such as performance management and onboarding tools, can streamline your HR processes and make them more efficient.
6. Don't forget about customer support
Ensure the ATS vendor offers good customer support if you have questions or issues with the system.
7. Consider the cost
Determine your budget and look for an ATS that fits within it. Remember that a more expensive ATS may offer more features and benefits, but finding a balance between cost and functionality is essential.
Besides, the seven tips we mentioned above also gather inputs from all the stakeholders involved. It would help you choose the ATS that meets everyone's needs and leads to maximum candidate engagement.
How to implement an applicant tracking system?
Finding the right ATS software is only half the battle. The real challenge is implementing the ATS software and getting it running. While many organizations overlook this part, it is essential as it can make or break your hiring efforts.
Here are five steps to successfully implementing an ATS:
Step 1: Planning
The planning stage is the building block of ATS implementation. In this stage, we assess our current workflow and process for hiring candidates and define how the ATS software will improve it.
Here are the common questions we ask at this stage:
Why do you want to implement the ATS software?
What do you want to achieve with the ATS?
What part of businesses will the ATS implementation affect?
These questions give you enough insights into the vision and the stakeholders you would need for successful implementation. It would also ensure clear communication channels and avoid confusion.
Step 2: Account Set-up
At this stage, we get all the stakeholders involved and integrate the ATS into your organization's ecosystem. We also configure the ATS software to meet our business needs.
You must use vendor help if you face any problem at this stage or want anything specific in your ATS software. They know what's been tried before and can help you.
Step 3: Training
Once you have set up the ATS account, the next step is to train all the stakeholders to use it. We also migrate a little data at this stage to see how the ATS software works.
Carefully observe what works for you and what doesn't at this stage because it will decide whether the software is for you in the long run. Also, refer to all the documentation, ask questions, and contact vendors if you need help. You would want to make the most out of this stage.
Step 4: Go Live
Once the training of all the stakeholders is complete, we migrate the entire user data into the ATS. At this stage, we also test the ATS software thoroughly to see if anything doesn't pan out the way we want.
A risk mitigation plan is essential before the Go-Live stage because the stakes are high. You would certainly not want to go live without a strategy, only to fail hard later.
Step 5: Adoption
If the Go Live stage is successful and you don't face any significant issues, we navigate to the final step, i.e., Adoption. Here, we address the problems we haven't addressed yet and work on improving the ATS software for customer success.
Conclusion
An applicant tracking system can be an efficient tool in the right hands. With it, you can hire top talent faster and significantly reduce hiring costs. But it can become your greatest nightmare if you don't know how it works and what power it has. You can lose even the most brilliant candidates and inflate the hiring costs. Hence, understanding the ATS software and its capabilities is essential.
Hopefully, the blog we shared above gave you enough insights into an applicant tracking system, its capabilities, and how to make the most out of ATS software.
But if you still can't decide which ATS software you should use, we recommend that you should go with Gohire.
Why GoHire is the best applicant tracking system software for hiring managers?
GoHire is a powerful ATS system with all the features necessary to streamline recruiting and hiring process. With it, HR teams get complete visibility by gathering all their hiring campaigns and candidate data in one secure place.
GoHire also helps you reduce hiring costs by letting you publish to 15+ job sites with one click for free. There are also analytics and reports to help you improve the hiring process and ensure you're not wasting any time finding job seekers. However, one feature that stands out in GoHire is its built-in artificial intelligence capabilities that help you screen candidates faster and thus reduce the hiring time.
Overall, GoHire has everything you need to hire high-performing candidates faster, and you can quickly get ahead of your competition with GoHire's AI-powered features.