Introduction
As its name implies, time-and-attendance software is an intelligent and flexible software solution that tracks attendance at an office. You can use this system in many industries. Attentive management systems are commonly used in government offices, schools, and businesses to track and record people's entry and exit times.
This system is ideal for many purposes, such as analysis, payroll, assessment, etc. Traditional methods are time-consuming, flawed, and less flexible. A design like this is highly recommended by every business, especially considering it is now the digital era.
What are Time and Attendance?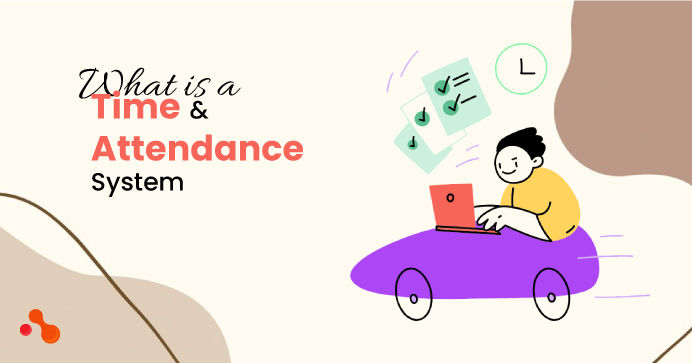 This software gathers crucial information about students and employees in college or at work. It records details such as entry, exit, and break times. It can be set up to access the system at certain times of the night and be used as an off-day configuration.
This is a perfect system for analyzing employees' work hours and creating performance reports. It also simplifies the payroll process. It solves many common problems caused by alternative attendance management systems.
The following statistics and facts can help you better understand
3% of the workforce in the USA is currently on leave.

20% of the US workforce is late on average once per week.

With an attendance system, generating reports that will allow you to examine employee behavior is simple.

The manual timesheets must be corrected for at least 80%.

1 in 3 is the case & the attendance systems are outdated.

Businesses in the USA are losing $11 billion due to time theft.
Common Issues In Attendance Management Systems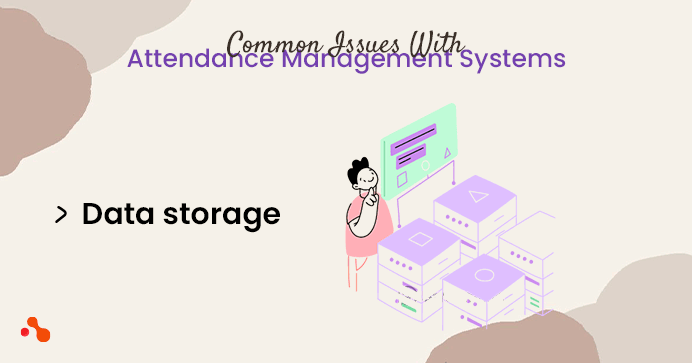 Nearly all of us know about attendance systems. You can use any system that uses a pen and paper, scanner code, digital scan, mobile, computer, or another.
Incorrect systems can lead to significant problems in educational institutions. This system makes it easy for employees and students to time theft.
The data from attendance management software is used to generate payroll, analyze behavior, optimize, and more. Older attendance systems make it harder to manage. Modern techniques that utilize better technology are more effective at improving compliance and reducing costs. They also prevent time theft and eliminate mistakes.
Importance Time and Attendance Solutions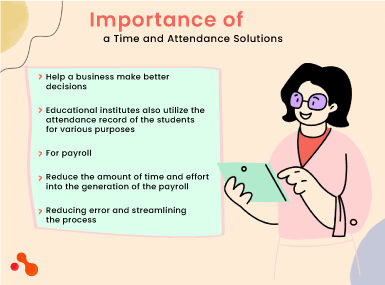 Performance is an essential factor in making big decisions. To assess employees' performance, businesses often use several methods. Performance can also be evaluated by the employees' punctuality and work ethic. Education institutes can also use student attendance records for different purposes. Payroll is one example of a program that uses data from an attendance record.
It is possible to save time and effort by developing time- and attendance solutions while keeping in mind evolving working situations. A great system can automate the process and reduce errors. It also streamlines it. Businesses can make better decisions by going digital.
Here are some stats from USA businesses that stress the importance of intelligent attendance.
Time theft at work costs employers $11 Billion annually.

Buddy punching can cost $373,000,000 annually.

25% of businesses use an application for time tracking, while 25% use spreadsheets. 14% use touchscreen kiosks. 10% use punch cards.

Buddy punching issues affect more than 75% of companies.
Tips on How to Create a Time & Attendance Tracking Application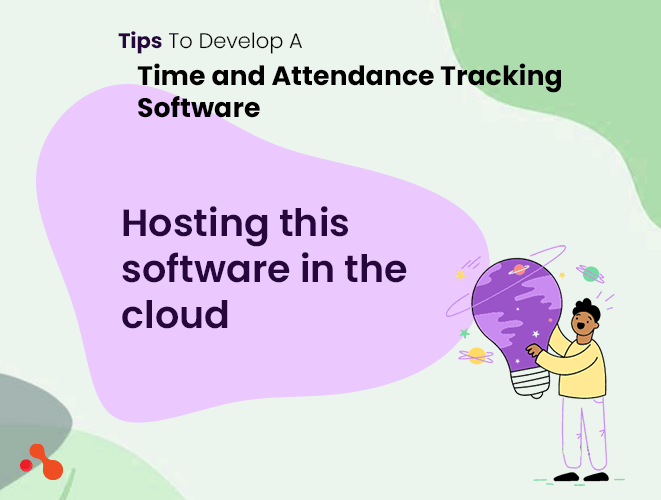 The decision to purchase or update time and attendance software is essential. It is a good idea to research the subject thoroughly before starting to build one. You can develop software such as this in many different ways. Here are some ideas on how you can do it.
This software can be stored in the cloud and made available to employees, managers, business executives, and others. It keeps attendance records and can also be remotely managed.

The system can generate reports as all data is stored in one database.

The system can also be designed to meet the requirements of specific businesses. It can give the company information about the location of employees, which is helpful for those with multiple offices. It can also be used for data collection about the employee's work.

Firms could integrate a client-billing solution and automate the production of invoices. This is possible using data taken from the logs maintained by employees. They can track the time that was spent on a given project.

This type of software can be integrated into the payroll system for a business and automates the salary process for all employees.

Mobile attendance systems are ideal for remote workers. This system uses GPS data to verify time and location and track employee movements.

Develop an automated attendance system that eliminates human error. Employees are prone to double-check their attendance and need to remember to record entries. Intelligent systems can send reminders so that all the correct data is recorded. They also help eliminate duplicate data.

One of the essential features of time & attendance tracking software is a time tracking. Flexible scheduling, managing absent & payroll integration with project manager, HR policies, etc.
Acquaint Softtech can provide complete attendance and timing solutions. We have a dedicated team that works with you to develop the most advanced time & attendance systems. We employ a well-defined process for development and deliver applications that are error-free and free from bugs.
Some Important Features to Include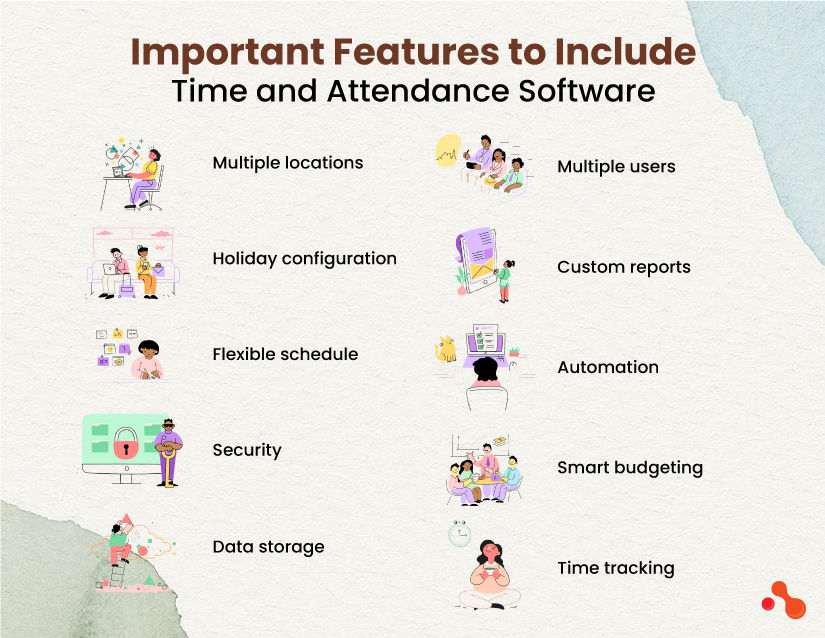 Acquaint Softtech boasts highly skilled, experienced Hire developers. You can trust Acquaint Softtech to build a high-quality custom time/attendance solution for your company.
Multiple locations. The system can combine attendance reports from offices in different areas of the country and worldwide. It makes it possible to merge pieces automatically and make them available for further processing.

Holiday configuration. All holidays of the year can be programmed in the system for each operation.

Flexible schedule: It can be set up to support flexible working hours of employees, as well as multiple shift times.

Security: This system also has a double security feature. It records the time and allows access to the office. It can also generate temporary IDs to enable visitors to enter the building.

Data storage. A cloud storage solution ensures minimal downtime for the large amount of data generated from a system like this.

Multiple users: This system is compatible with many other systems in a company, like a payroll, project administration, etc. It allows multiple users access to data and can create or analyze reports as required.

Reports custom: You can generate reports customized for each employee to assess their performance and make important decisions about their appraisal, perks, or further contributions to your company.

Automation: This is when a system generates an enormous amount of data that is almost impossible for humans to manage manually. It can automate multiple processes such as creating reports about employee behavior and employees arriving late or taking too much leave, payroll, invoice generation, and payroll.

Smart budgeting. They are integrated with company financial tools.

Time tracking: Recorded the attendance of every person who enters the building.

Policy compliance can be tailored to meet HR policies or other applicable Governmental regulations.
What are the Benefits of Developing Time and Attendance Software?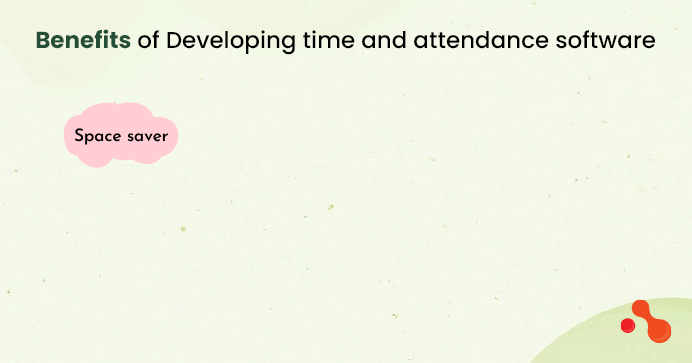 New technologies are constantly being developed and implemented every year. Technology is also becoming more dependent. It would be highly beneficial to all businesses to build a custom software system to manage their time, attendance, and other business needs. Here are some of the benefits.
It removes the need for manual time sheets and allows you to dedicate a space to store them or use them to create reports.

It can use advanced technologies to make your life easier.

It automates the payment process for employees and handles all sizes of payroll payments.

It can improve employee satisfaction.

It is an ideal tool to personalize and even for branding.

Allows for centralized attendance management regardless of location.

Real-time attendance reporting provides information on employee whereabouts, particularly for pre-scheduled meetings.

It costs less to build time- and attendance software than it does to manually process all tasks dependent on the data. This includes custom report generation and project invoicing, payroll, invoice generation, custom reports generation, and project invoicing.
Conclusion
A time and attendance software system is a program that includes hardware devices such as biometric scanning or similar devices. It keeps track of and records attendance and working hours. It is more complex. Data generated by the system can be used to create many solutions.
Brilliant time & attendance systems of this nature can be applied to any industry. Acquaint Softtech's team of experienced developers can assist you in developing such a system. Our team has the resources and experience to manage your project from idea to completion.