data scientist certification

(3)

After the pandemic, digitalization has been at the forefront, and on a global level, companies are investing in the latest technologies to enhance their efficiency and operations. Technological advancement will continue to develop, and data analytics...

Emily Joe

· 17 April

· 68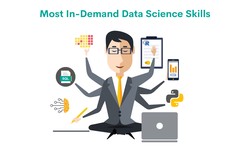 In the current digital era, data is a key factor in determining how successful firms are in a variety of sectors. Data Science has emerged as a field that utilizes advanced techniques and tools to extract insights and value from vast amounts of data....
Pradeep Ghosh
· 27 November
· 1
In today's fast-paced digital era, data has become the driving force behind decision-making and strategic planning in almost every industry. The retail sector is no exception, as it harnesses the power of data science to gain valuable insights, optim...
Gour sinha
· 22 November
· 1