Follow
I am a dweller of Canada and am known as Cantonese Canadian and French Canadian. For 4 years of working as a trained Translator, I have been delivering to my clients the best I can and continue to do so.
Manufacturing Translation is a process of translating various documents, materials, or communication within the manufacturing industry from one language to another. Global Manufacturing companies are mandated to operate in multiple countries and serve diverse markets. As a global manufacturer, you...
29 September ·
0
· 6
·
Jennifer Zuber
Subtitling Translation is a specialized field within the broader domain of translation and localization. Subtitlers are responsible for translating spoken or written content from one language into another and synchronizing it with the video or audio source. This task is essential for making content...
25 September ·
0
· 5
·
Jennifer Zuber
Businesses of all sizes are expanding their reach beyond borders by breaking geographical barriers. However, effective communication with their international clientele is one of the critical challenges faced by companies seeking global success. The importance of accurate and efficient technical tran...
27 July ·
0
· 17
·
Jennifer Zuber
Yes, indeed with the augmenting stats of demanding results Businesses are evolving, expanding, and accepted, and are shifting into different regions of the world from one place to another. Well, have you ever considered why all these changes and transformations are occurring all around the globe? Th...
28 June ·
0
· 6
·
Jennifer Zuber
There are approximately 496 million native speakers of Spanish Worldwide, making it the second most spoken language after Mandarin. The official language of 22 nations is Spanish, also known as Castil...
08 June ·
0
· 3
·
Jennifer Zuber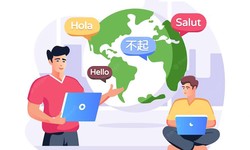 Are you also one of those users or viewers who uses subtitles while watching any sort of content? In fact, viewers between the ages of 18 and 25 use subtitles either constantly or occasionally. It is recently explained in the BBC Interview; that captions are now the norm for different age sets use t...
19 May ·
0
· 6
·
Jennifer Zuber