(And what you'll be missing out on…) Like mushroom that can't be stopped from sprouting, electric scooters have more than doubled, and in fact, they have become exceedingly popular and widespread in...
7 hours ago ·
0
· 4
·
Jefrey @Mearth
Intelligent, very responsive and highly capable. Truly advanced.    MEARTH CYBER. Ready, willing and very capable to provide riders the best riding experience at any given scenario or situation. St...
03 February ·
0
· 7
·
Jefrey @Mearth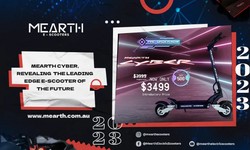 My Dad is Awfully….Great! I thought it would just be the usual weekend. We were casually strolling around the plaza mall. Something fast passed me by. I looked back and saw a father and son happily p...
03 August 2022 ·
0
· 54
·
Jefrey @Mearth