Gadgets

(52)

 It is new iPhone time. And there is a lot that is new this year. New design, MagSafe, OLED screen, processor, camera capabilities, and, of course, 5G. It has been a long time sinc...

Jacob Enderson

in

Gadgets

20 October 2020

· 44 · 1 Over-the-air digital video recorders are devices that are capable of recording your favorite shows aired on televisions. Whether it is from cable subscriptions or an antenna connec...
Alex
in
Gadgets
21 July 2020
· 119 · 1 I keep seeing headlines about Samsung's upcoming iPad Pro killer, the Galaxy Tab S7, and it makes me think, can it really kill the iPad Pro? So what I'm gonna do in this article, i...
Jacob Enderson
in
Gadgets
23 July 2020
· 410 · 1 It's pretty clear by now that Apple is planning on bringing 5G to their iPhone 12 lineup which they should reveal about two months from now. And some rumors are even pointing to Ap...
Den W.
in
Gadgets
23 July 2020
· 39 · 1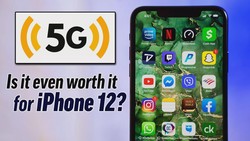 You're thinking about buying Samsung's new Galaxy Buds Live for your iPhone, but the question is how well do they work if you don't own an android phone? I've been using them with...
Den W.
in
Gadgets
20 August 2020
· 159 · 1 Ross Young, CEO and founder of Display Supply Chain Consultants is back again with some great Galaxy Note 20 news where he's detailing the display specs of both the Galaxy Note 20...
Alex
in
Gadgets
12 May 2020
· 45 · 1 Almost 15 months ago Samsung launched a new fingerprint sensor that uses sound waves to map the ridges on your finger and unlock your phone. It was developed by Qualcomm which is m...
Den W.
in
Gadgets
15 May 2020
· 16 · 1 Just about every month, I'm testing a new camera, but the month that I get an action camera are by far my favorite. The GoPro Hero 9. It is more robust in almost every single way....
Alex
in
Gadgets
17 September 2020
· 60 · 1 A few days ago we learned the battery capacity of the smaller Galaxy Note 20 variant and it's the same as the Galaxy S20 which is 4000mAh. The Galaxy Note 20 will have a 6.42" disp...
Jacob Enderson
in
Gadgets
19 May 2020
· 34 · 1 We've been hearing quite a lot about the specs of the Galaxy Note 20 and Note 20+ recently. But today we're getting an early look at the potential design of the smaller Note 20 han...
Den W.
in
Gadgets
20 May 2020
· 25 · 1 Laptop or tablet - why not both? This is the Microsoft Surface Book 3, a premium device that can be either. It's available in a smaller 13.5" size, or larger 15" model which has th...
JT
in
Gadgets
21 September 2020
· 59 · 1 When I first heard about Sony's new A7C, I thought, "Yeah, okay, "this is purely just a parts bin camera," which it is. It takes the best of the Alpha line and it puts it into a sm...
Den W.
in
Gadgets
02 October 2020
· 42